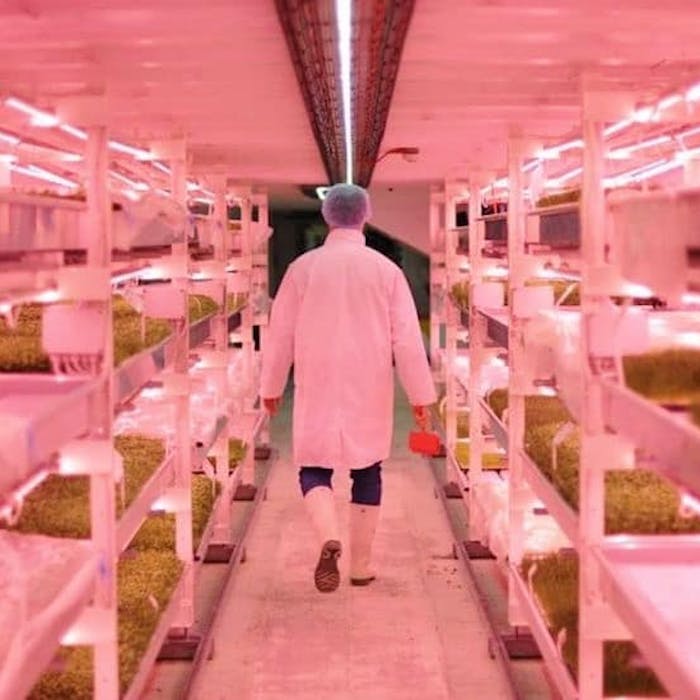 Growing Underground - the subterranean farm below South London
A glimpse, perhaps, of an industrialised farming future lies far below the surface of London. Out of reach from any fresh air and sunlight, the Growing Underground project uses innovative LED lighting to grow produce in a former World War II bomb shelter.
The subterranean farm grows coriander, broccoli, fennel, and other micro herbs in a mission to promote zero-carbon food. Its produce goes on to fill the plates of high-end London restaurants and and shelves of big-name stores such as Marks & Spencer. 
To make up for the lack of natural light, the plants are grown beneath LED lights that bathe the bunker in an eerie pink glow. The lights shine the brightest at night, when electricity is the cheapest. The produce is grown with hydroponics, meaning the seeds rely on a cocktail of mineral nutrients and a water solvent rather than soil.
Being underground, the farm's micro greens and salad leaves are totally unaffected by seasonal changes, so prosper in the unusual environment all year round. A hydroponics system to keep them watered uses 70% less than traditional open-field farming, and all nutrients are kept within the closed-loop system, removing any risk of agricultural run-off. No pesticides are needed, and 'food miles' for London retailers and consumers are minimised.
Before Growing Underground moved into the space in 2015, the WW2 shelter under Clapham North tube station - once planned as extra capacity for the Northern Line Underground - had been abandoned for 70 years. It was one of eight deep-level bomb shelters built around London during World War II, and housed 8,000 troops at one point in a labyrinth of tunnels that stretched for over two miles underground at a depth of 100 feet.
In 2019, Growing Underground started offering tours to the public, allowing visitors to explore the eerie pink farm of the future deep below the city streets and take home micro herb salad harvested straight from the grower.
Further reading
Links to external websites are not maintained by Bite Sized Britain. They are provided to give users access to additional information. Bite Sized Britain is not responsible for the content of these external websites.