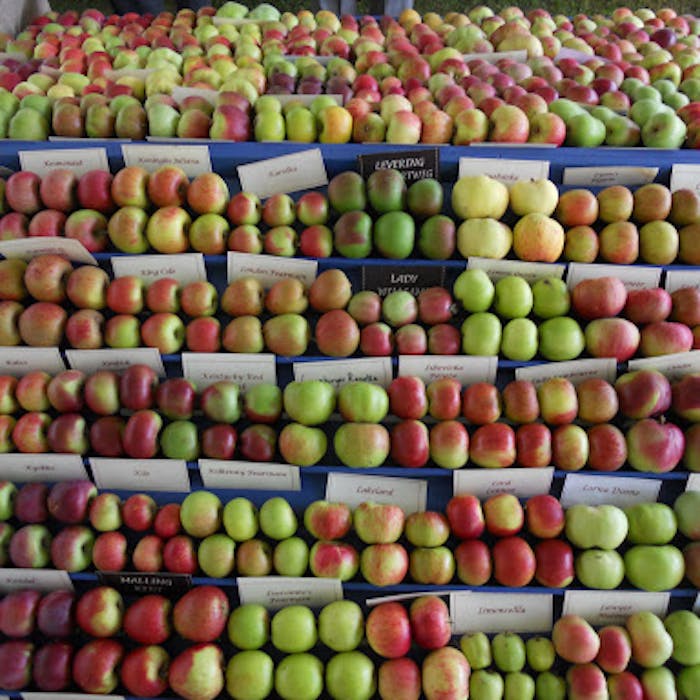 Tickle your tastebuds at the Brogdale National Fruit Collection
The National Fruit Collection in Brogdale Farm near Faversham in Kent, is one of the largest fruit collections in the world. It includes over 4000 named apple, pear, plum, cherry, bush fruit, vine and cob nut cultivars. It is both a remarkable botanical resource and a unique place to visit.
The National Fruit Collections were first established in Chiswick, London in the early 1800s by the Horticultural Society (now the Royal Horticultural Society), under the guidance of Thomas Andrew Knight. The origin of the Collections stemmed from a need to establish correct nomenclature and accurate cultivar descriptions of temperate fruits grown in the UK.
The National Fruit Trials and the Collections were established in 1921 at Wisley, Surrey. They were relocated from Wisley to Brogdale near Faversham between 1952 and 1954, when the Ministry of Agriculture, Fisheries and Food (MAFF) assumed complete funding. The present day Collections were largely built up from this time onwards under the direction of J.M.S. Potter until 1972, and by successive Directors of Brogdale.
Currently The National Fruit Collections at Brogdale are the largest fruit collection in the world growing on one site. It comprises over 4,000 fruit varieties: around 2,400 apples, 500 pears, 280 cherries, 300 plums, 50 hazelnuts, 150 gooseberries, 200 currants (black, red, white and pink), as well as small collections of vines, quinces, medlars and apricots.
As well as an important role in agriculture and horticulture, the collection is a delightful visitor destination, where you can sample rare and unusual fruits in season throughout the year after seeing them growing and take highly informative guided tours.
Arguably, the best time to visit Brogdale Collections is during one of its events such as the Apple, Cider or Cherry Festivals, where you can taste and buy  hundreds of varieties and tour the NFC, or Hanami Festival for spring blossom.
Further reading
Links to external websites are not maintained by Bite Sized Britain. They are provided to give users access to additional information. Bite Sized Britain is not responsible for the content of these external websites.