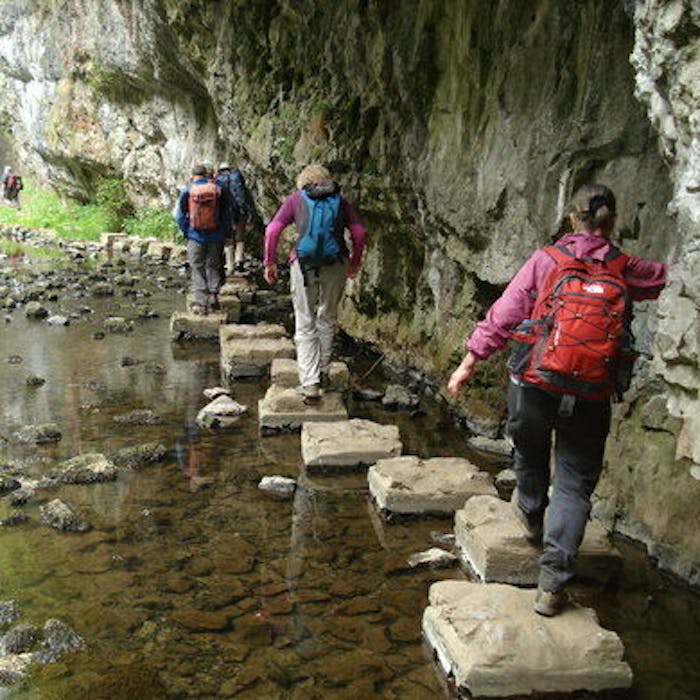 The Chee Dale stepping stones in the Peak District National Park
A walk through Chee Dale is one of the best hikes in the southern part of Derbyshire's Peak District National Park, not least because of the fun of navigating some large stepping stones along the side of a river en route.
Usually beginning at Millers Dale, the Monsal Trail that runs through Chee Dale also journeys through a delightfully wooded limestone gorge. Alongside the gorge runs the River Wye.
To allow hikers to progress with (relatively) dry feet, large stepping stones were placed in the river. These stepping stones are unique because they don't take hikers across the river, but allow them to journey along the bank.
When the river's water levels rise, traveling along these stones can be precarious. The stones can become submerged, in which case, it's best to take another route. Allowing other hikers to pass in the opposite direction can require some effort, especially if both parties wish to remain dry. 
This route through the limestone gorge of Chee Dale is a great hike even without the stepping stones, but the joy of attempting to navigate the stones is one of the reasons the walk is so popular.
Further reading
Links to external websites are not maintained by Bite Sized Britain. They are provided to give users access to additional information. Bite Sized Britain is not responsible for the content of these external websites.