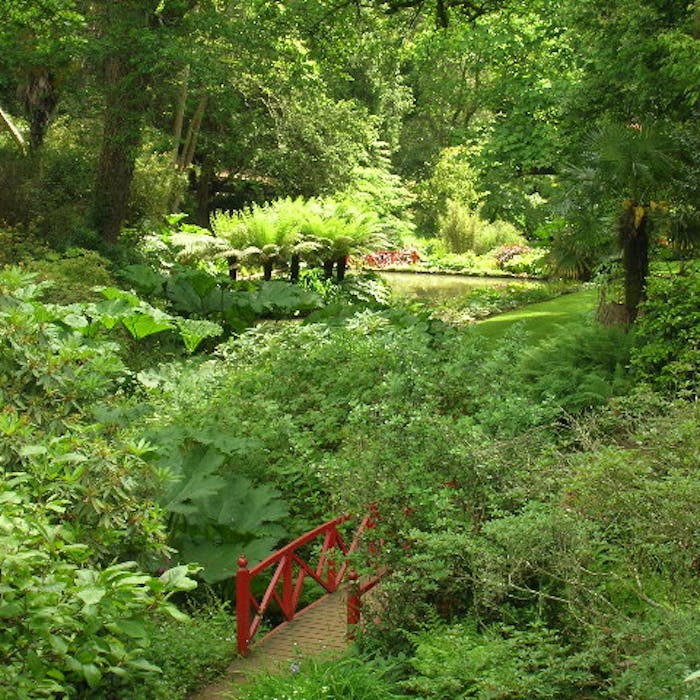 Abbotsbury Subtropical Gardens
The Abbotsbury Subtropical Gardens is a visitor attraction near the village of Abbotsbury, Dorset, southern England. They are Grade I listed in the National Register of Historic Parks and Gardens.
In 1765 Elizabeth, the Fox-Strangeways family (the Earls of Ilchester) built a new house on a site overlooking Lyme Bay. A walled kitchen garden was built to provide fresh vegetables and fruit for the house — eventually forming the basis of the current gardens.
The range of plants in the garden was expanded under the auspices of William Fox-Strangways, 4th Earl of Ilchester. He was a diplomat on foreign service, a leading botanist and an expert on the flora of Europe. He introduced many new species into cultivation, from a wide range of countries.
He and his successors took the garden into the surrounding woodland, where the shade, shelter and moisture provided ideal conditions for the great influx of newly collected plants from the Himalayas, China and Japan.
The 5th Lord of Ilchester was devoted to the care of this garden as his ancestors were, and he and Lady Ilchester trebled its original size. It became home to one of the finest plant collections in England at the time.
By the 1890s, there were many exotic plants in the garden. A major influence was the head gardener, a Mr Joseph Benbow. He came to Abbotsbury having worked for ten years at the famous La Mortola garden in northern Italy. The timely arrival of succulent plants and other exotics could well have come from his recent experience in the Mediterranean.
In 1913 the castle burned down. It was rebuilt in 1915, but due to some major construction faults in remained uninhabited and was eventually demolished in 1934. Today, all that remains is a section of the outer wall, visible from the beach.
The gardens have now developed into an 8 hectares (20 acres) site with exotic plants, many of which were newly discovered species when they were first introduced. There are formal and informal gardens, with woodland walks and walled gardens; in addition, the gardens also contain certain "zones" that exhibit plants from different geographical areas.
The gardens are in a wooded and sheltered valley, leading down towards the sea at Chesil Beach; this combination produces a microclimate in which more delicate plants than are usually grown in southern England can flourish, and plants that would otherwise need a greenhouses can be grown outside. However, in spite of its location, the plants remain vulnerable to bad winters, and the frost that they can bring; in 1990, violent storms damaged many of the rare specimens, which have since been replaced by younger plants.
Further reading
Links to external websites are not maintained by Bite Sized Britain. They are provided to give users access to additional information. Bite Sized Britain is not responsible for the content of these external websites.