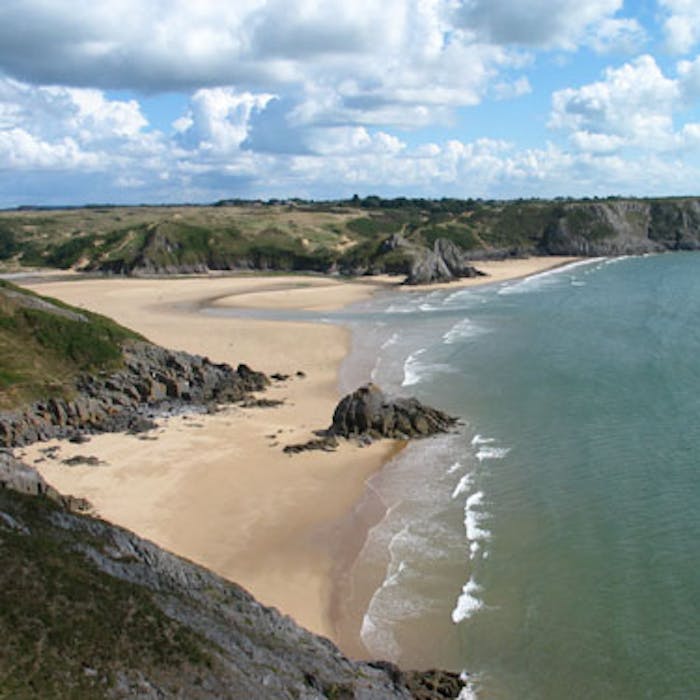 The Gower Peninsula - the first designated area of outstanding natural beauty
The Gower Peninsula in south west Wales is a particularly scenic coastal area which projects towards the Bristol Channel. It is close to Swansea in the most westerly part of the former historic county of Glamorgan.
In 1956, the majority of Gower became the first area in the United Kingdom to be designated an Area of Outstanding Natural Beauty.
About 70 square miles in area, Gower is known for its coastline, popular with walkers and outdoor enthusiasts, especially surfers. It has a rich and varied environment of wild moors, limestone cliffs and huge golden, sandy beaches. Gower has many caves, including Paviland Cave and Minchin Hole Cave. The peninsula is bounded by the Loughor Estuary to the north and Swansea Bay to the east.
The highest point of Gower is The Beacon at Rhossili Down at 633 ft overlooking Rhossili Bay.
The southern coast consists of a series of small, rocky or sandy bays, such as Langland and Three Cliffs, and larger beaches such as Port Eynon, Rhossili and Oxwich Bay. The north of the peninsula has fewer beaches, and is home to the cockle-beds of Penclawdd. Television viewers may recognise Rhossili Bay beach as the location for the Lloyds Banking Group adverts featuring the iconic black horse galloping along miles of sandy beach.
There are six castles on the Gower Peninsula and numerous cairns and standing stones.
Further reading
Links to external websites are not maintained by Bite Sized Britain. They are provided to give users access to additional information. Bite Sized Britain is not responsible for the content of these external websites.