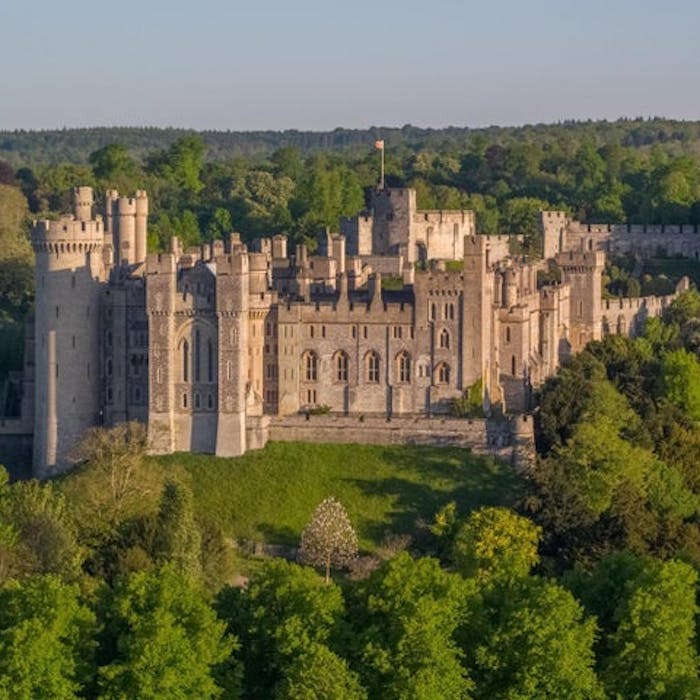 Arundel Castle - Norman splendour in West Sussex
Arundel Castle is an imposing restored medieval castle in a delightful setting in West Sussex. It occupies a defensive site on a prominent hill overlooking the River Arun and the South Downs.
The castle has many fine original features including the Norman keep, medieval gatehouse and barbican - spaces now used for interactive exhibitions where visitors can also dress up in costume to learn how to hold a castle against a siege.
Established on Christmas Day by Roger de Montgomery in 1067, a year after William the Conqueror's invasion, Arundel Castle's original foundation consisted of a motte - a high mound of earth surrounded by a dry moat - with a double bailey.
The castle has passed through various families since being built - and has sometimes been owned by the Crown. Since its construction, it has been the seat of the Earl of Arundel and, for over 400 years, the Duke of Norfolk.
In 1643, during the First English Civil War, the castle was besieged for 18 days, with 10,000 royalists inside, who had to then surrender. This led to Parliament ordering the slighting of the castle in 1653, meaning that the castle was deliberately damaged.
Major restoration work took place under Charles Howard in 1787. Although many of his improvements have since been revised, the library in the castle is still as he had it designed and built.
In 1846, Queen Victoria and Prince Albert, visited Arundel Castle for three days. The castle was remodelled in time for their visit. The then Duke of Norfolk devised a brand new apartment block, commissioning a portrait of the Queen and decorating the block with the finest of Victorian furniture and art. There was also a re-structuring of bedrooms for the court.
The 16th Duke had planned to give the castle to the National Trust but, following his death in 1975, the 17th Duke cancelled the plan. He created an independent charitable trust to guarantee the castle's future, and oversaw restorative works.
It is a Grade I listed building.
Further reading
Links to external websites are not maintained by Bite Sized Britain. They are provided to give users access to additional information. Bite Sized Britain is not responsible for the content of these external websites.