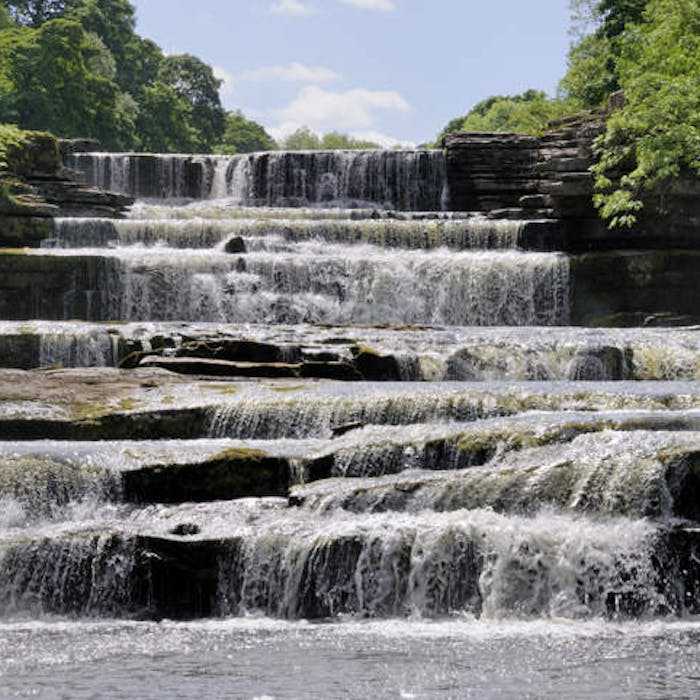 Aysgarth Falls - a delight in the Yorkshire Dales
Aysgarth Falls are a well-known scenic attraction in Lower Wensleydale in the Yorkshire Dales. They are a triple flight of waterfalls carved out by the River Ure. This spot has been admired for its beauty for centuries. The broad limestone steps across which the water cascades are particularly pleasing to the eye.
The Falls, surrounded by woodland and farmland, are a product of the Ice Age, several thousand years ago. Great rivers of ice ground down inside the valleys. Nearby Bishopdale was carved out deeper than Wensleydale, and the River Ure had to drop a good distance to meet up with it, so the falls were formed. They have attracted visitors for more than 200 years, including creatives John Ruskin, J. M. W. Turner and William Wordsworth.
They are particularly spectacular after heavy rainfall, as thousands of gallons of water cascade over the series of limestone steps, which are divided into three stages: Upper Force, Middle Force and Lower Force. Occasionally salmon can be seen leaping up the falls in autumn.
The Falls are situated in the Yorkshire Dales National Park with a visitors' centre and exhibition and café. They can be accessed from public footpaths through the wooded valley. Nearby is St Andrew's Church, which has what is reputed to be the largest churchyard in England. The church has a medieval painted wooden screen rescued from the destroyed Jervaulx Abbey.
The odd name of the waterfalls originates from Old Norse and means 'the open space in the oak trees'.
All three falls were featured in the film Robin Hood: Prince of Thieves, as well as other screen incarnations of the Robin Hood story.
Further reading
Links to external websites are not maintained by Bite Sized Britain. They are provided to give users access to additional information. Bite Sized Britain is not responsible for the content of these external websites.