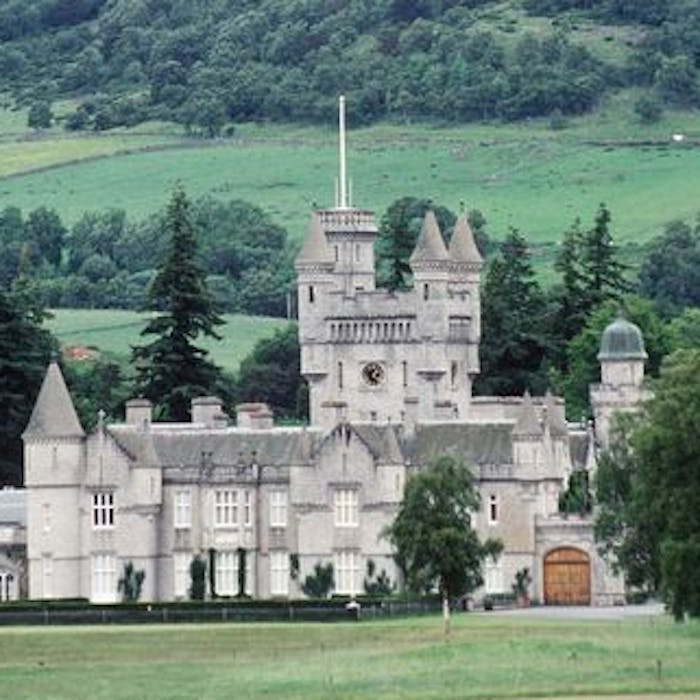 Balmoral Castle - the monarch's Aberdeenshire royal residence
Balmoral Castle has been the Scottish home of the Royal Family since it was purchased for Queen Victoria by Prince Albert in 1852. Located in Royal Deeside, Aberdeenshire, Balmoral Castle is one of two personal and private residences owned by the Royal Family, unlike the Royal Palaces (such as Buckingham Palace), that belong to the Crown.
In the autumn of 1842, the new Queen Victoria and her consort Prince Albert paid their first visit to Scotland. They were so struck with the Highlands that they resolved to return. A further visit to Perthshire and then Ardverikie encouraged them to seize the opportunity to purchase Balmoral.
Protracted negotiations were completed in June 1852, and the royals then owned the estate and the land on which it stood. However, Prince Albert decided to build a new Castle, because the current one was not considered large enough for the Royal Family. A new site was chosen 100 yards north west of the old building, and the successor castle was designed by William Smith, City Architect of Aberdeen.
Queen Victoria laid Balmoral Castle's foundation stone in September 1853 - it can be found at the foot of the wall that is adjacent to the west face of the entrance porch. Victoria also signed a parchment recording the date, which together with a sample of each of the current coins of the realm, was then placed in a bottle, and inserted into a cavity below the stone.
The Castle was completed in 1856, and the old building was demolished. The Castle is constructed from local granite, which was precision cut using the modern machinery of the day, producing a much smoother finish to the building than in usual stonework. 
Prince Albert then set about landscaping the area, starting a programme of improvements lasting several years, which was done in accordance with a model he had constructed in sand. The main works were completed by 1859 and included new houses, stables, workshops and schools.
In 1861 the main farmhouse and buildings were finished, with plans drawn up by Prince Albert for a new dairy along the lines of the one at Windsor Castle. However, he was never able to see his plans completed, for in December of that year he died of typhoid fever at Windsor. Queen Victoria, heartbroken at the death of her husband, continued what Albert had started and the dairy was completed the next year.
When Queen Victoria died in 1901, Balmoral Estates passed to King Edward VII, and from him to each of his successors. Although it remains largely the same as it was in Queen Victoria's reign, successive Royal owners have followed the initiative of Prince Albert in making improvements to the estate.
Further reading
Links to external websites are not maintained by Bite Sized Britain. They are provided to give users access to additional information. Bite Sized Britain is not responsible for the content of these external websites.