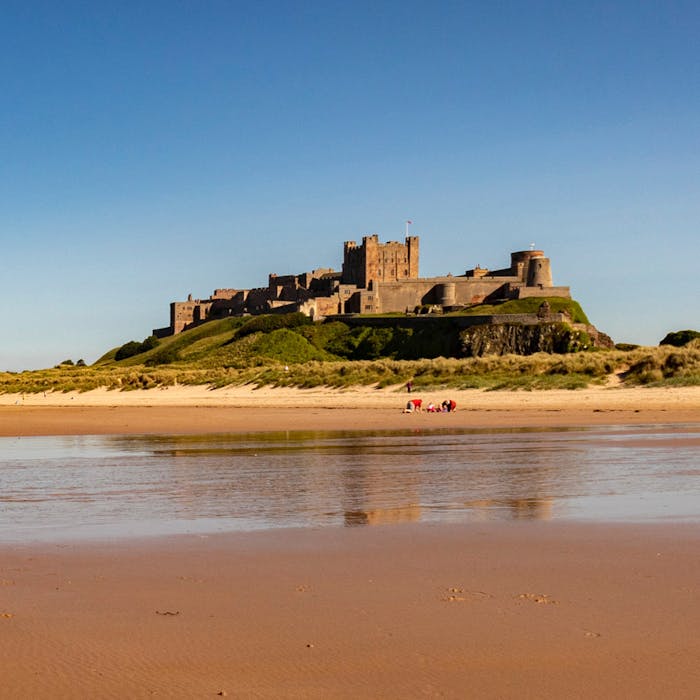 Bamburgh Castle - a photographer's dream
The imposing Bamburgh castle could well be Britain's most-photographed, due to its stunning location on the wild Northumberland coast. With the stretch of sand in the foreground, it has been used in many films and television programmes as a backdrop for stories of invasion or battle.
Bamburgh Castle is one of the largest inhabited castles in the country, having been in private ownership since the 1500s.
Forts have been on this spot since the Dark Ages, reflecting its strong defensive position on top of a long volcanic crag overlooking the North Sea. The Normans built a castle which remains as the core of the current building. After the castle's owner rebelled against the monarchy and lost, the castle passed to the Crown.
In 1464, during the Wars of the Roses, it became the first castle in England to be defeated by artillery, at the end of a nine-month siege by Richard Neville, 16th Earl of Warwick, the Yorkist "Kingmaker".
Passing into private ownership in the mid 1500s, by the 17th century financial difficulties led to the castle deteriorating. But it was rescued by various owners during the 18th and 19th centuries, and finally bought by the Victorian era industrialist William Armstrong in 1894, who completed its restoration.
Bamburgh castle still belongs to the Armstrong family and is open to the public, as is the nearby mansion Cragside, also built by Armstrong, and the first house in the world to be lit by hydroelectricity.
Further reading
Links to external websites are not maintained by Bite Sized Britain. They are provided to give users access to additional information. Bite Sized Britain is not responsible for the content of these external websites.