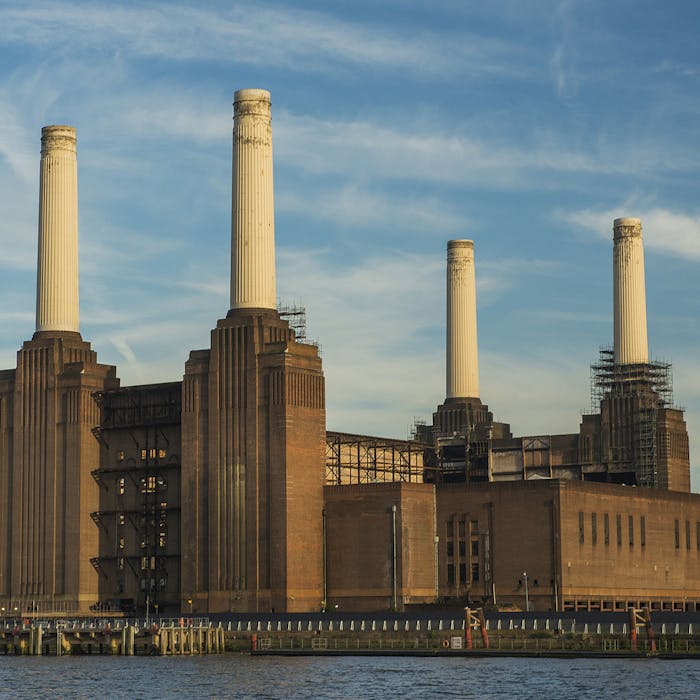 Battersea Power Station - iconic London Thameside giant
Battersea Power Station is a now-decommissioned Listed structure on the banks of the Thames close to Central London, which operated as an important coal-fired power station until the early 1980's. It was designed by famous industrial architect Sir Giles Gilbert Scott, and built by the London Power Company between 1929-55. It is currently at the centre of a leisure and residential redevelopment scheme.
It is one of the largest brick buildings in the world, and is notable for its art deco interior and décor, including the four iconic chimneys and the dramatic control room full of dials and levers that managed the distribution of its electricity output.
Dr Leonard Pearce, the chief engineer of the London Power Company, designed the structure. It actually consists of two stations, built into a single building in two stages. Battersea A Power Station was built between 1929-35, and Battersea B between 1937-1941. Due to the effects of World War Two, construction was paused, and not completed until 1955.
Battersea A and B are near-identical, resulting in its iconic four-chimney structure.
The building has featured in cultural productions as diverse as 'Doctor Who', the Alfred Hitchcock film 'Sabotage' and in the artwork for The Who's Quadrophenia, and Pink Floyd's Animals record albums.
The Power Station was decommissioned between 1975-1983, due to its output falling by age, and increased operating costs. The whole structure was declared a Grade II listed building in 1980 to entrench the building as a piece of national heritage, and was upgraded to Grade II* status in 2007.
The building became the subject of numerous redevelopment proposals: including a theme park; a shopping, retail and leisure complex; an 'eco tower' and even a football stadium. It was sold on the open market for the first time in 2012, to a Malaysian development company. Since that time, it has been undergoing a seven-phase redevelopment plan, which involved a retail and housing complex, and its own extension of the London Underground's Northern Line.
Further reading
Links to external websites are not maintained by Bite Sized Britain. They are provided to give users access to additional information. Bite Sized Britain is not responsible for the content of these external websites.