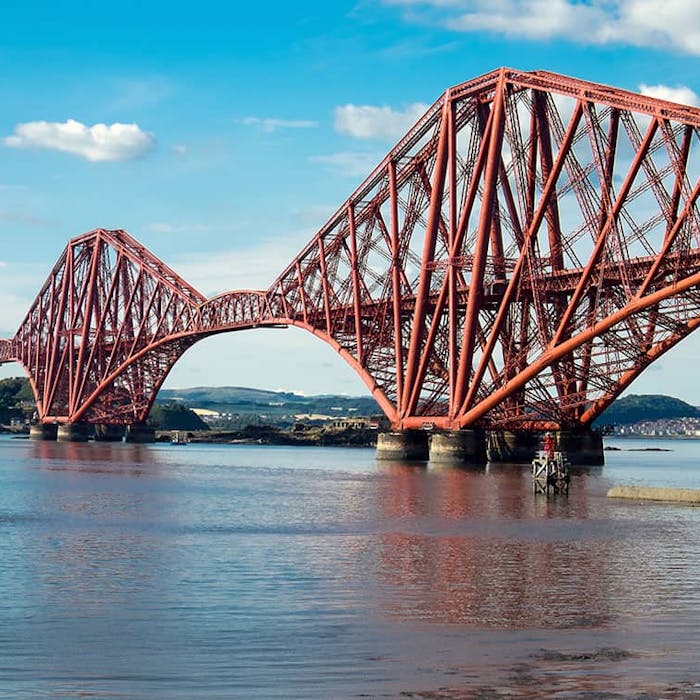 Forth Bridge - Scotland's rivetting engineering triumph
The world's first major steel structure, the Forth Bridge across the Firth of Forth in Scoland, is a milestone in railway civil engineering. Completed in 1890 and designed by Sir John Fowler and Sir Benjamin Baker, it is 2,467 metres long. It became Scotland's sixth UNESCO World Heritage Site in 2015, and its construction resulted in a continuous East Coast railway route from London to Aberdeen.
Before the construction of the bridge, ferries were used to cross the river. The first crossing of the Forth by the railway came in 1850 when the Edinburgh, Leith and Granton Railway started the world's first 'train ferry' – a ferry boat specially designed by Thomas Bouch to take railway coaches – between Granton and Burntisland.
Construction of a suspension bridge, also designed by Thomas Bouch, began in 1878. However when Bouch's original Tay Bridge collapsed during a storm in December 1879, work stopped pending a full inquiry, and was abandoned in 1881.
Designs for a new bridge were invited by the newly formed Forth Bridge Railway Company which had been established by the North British Railway, the Midland Railway and the North Eastern and Great Northern railways. Specifications required that the Forth remain navigable, and that the bridge must be capable of carrying the heaviest freight trains.
Fowler and Baker were engaged to develop their cantilevered design. Building work began in 1883, with a workforce of almost 5,000 men at the height of construction. The bridge incorporates 53,000 tonnes of steel. Its central structure incorporated 6.5 million rivets, weighing 4,200 tons alone.
It was formally opened by the Prince of Wales (later King Edward VII), who drove home a final gold plated rivet, on 4 March 1890. At the same ceremony, he also knighted Benjamin Baker.
UNESCO recognise the bridge as 'an extraordinary and impressive milestone in bridge design and construction'. A VisitScotland survey voted the Forth Bridge "Scotland's greatest man-made wonder".
Network Rail has plans to add a visitor centre, with a viewing platform on top of the North Queensferry side, and a bridge climbing experience.
Further reading
Links to external websites are not maintained by Bite Sized Britain. They are provided to give users access to additional information. Bite Sized Britain is not responsible for the content of these external websites.