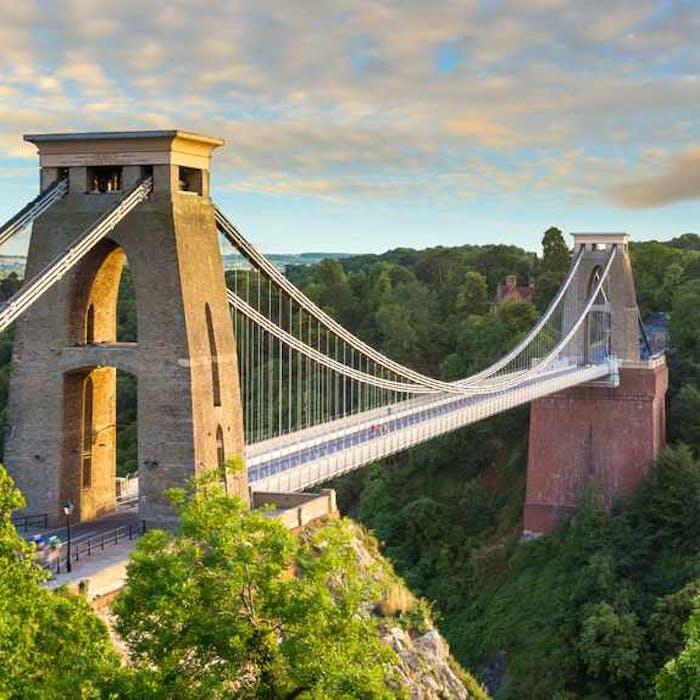 An historic feat of engineering: Clifton Suspension Bridge
The Clifton Suspension Bridge spans the Avon Gorge and the River Avon, linking the Georgian suburb of Clifton in Bristol to Leigh Woods in North Somerset. Completed in 1864, it was designed by architects William Henry Barlow and John Hawkshaw, based on an earlier design by Isambard Kingdom Brunel, and is now a Grade I Listed structure.
The Bridge's construction began in 1831 - although work was delayed due to a lack of money. Riots had occurred in Bristol in response to the House of Lords' rejection of the Second Reform Bill, which would have eliminated the MPs of some 'rotten boroughs', and give more parliamentary seats to expanding industrial areas. The riots had a strong impact on commercial confidence in Bristol, with investors withdrawing.
Work resumed in 1836, although investment was still inadequate, and the main contractors went bankrupt in 1837. Only the bridge's towers had been built by 1843 when all funds were exhausted and work stopped. In 1851, the ironwork was sold and used instead to build the Brunel-designed Royal Albert Bridge across the Tamar.
Brunel died in 1859, and never saw his passion project completed. Colleagues in the Institution of Civil Engineers felt that the Bridge's completion would be a worthwhile memorial, and began raising new funds.
A revised design was made by Barlow and Hawkshaw. This sadly included omitting Brunel's Ancient Egyptian-style sphinxes, originally designed to sit on the top of the Bridge's towers.
Work resumed in 1861, and the Clifton Suspension Bridge was finally completed on 8th December 1864. Since opening, it has been used as a tollbridge, and is recognised as an iconic structure for the city of Bristol. Pedestrians can cross the bridge for free.
Further reading
Links to external websites are not maintained by Bite Sized Britain. They are provided to give users access to additional information. Bite Sized Britain is not responsible for the content of these external websites.