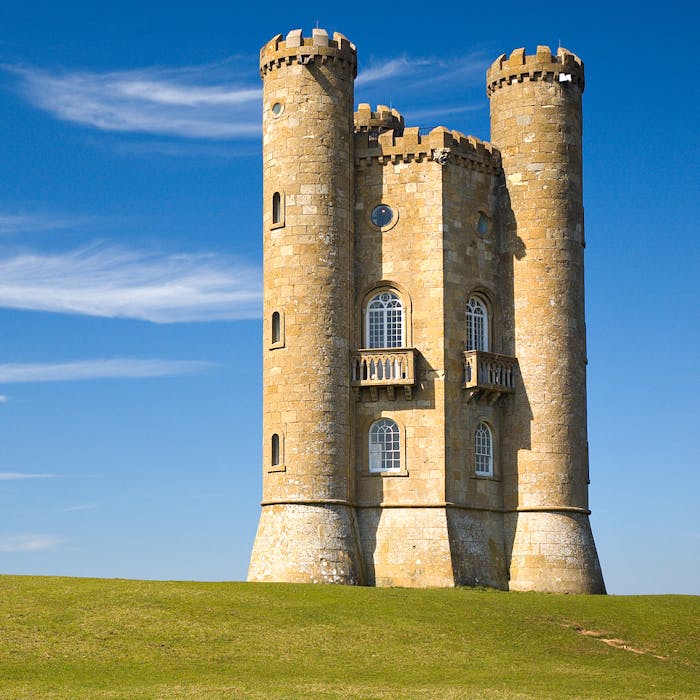 Broadway Tower - highest castle in the Cotswolds
The Broadway Tower is familiar to walkers on the Cotswold Way. The folly stands at an impressive viewpoint and has associations with Capability Brown, William Morris, and the Cold War.
Broadway Tower is a folly on Broadway Hill, near the large Cotswold village of Broadway, in Worcestershire. It stands at the second-highest point of the Cotswolds (after Cleeve Hill near Cheltenham) and has wonderful views over 16 counties.
On a clear day, you can see the spires of Worcester Cathedral and the towers of Warwick Castle.
Though it is a folly, Broadway Tower is functional in the sense that there are rooms inside.
The tower was the brainchild of the great 18th century landscape designer, "Capability Brown". After his death, his vision was carried out for George William 6th Earl of Coventry with the help of renowned architect James Wyatt. The Tower was completed in 1798.
In the early 1800s, Broadway Tower was acquired by Sir Thomas Phillipps, owner of the nearby Middle Hill House and estate. Phillipps was a great collector of manuscripts and printed books. In 1822 he set up a press in the Tower, to issue printed versions of manuscripts and also catalogues of his expanding collection, which he made available to scholars from every corner of the globe. Broadway Tower became known as the Lighthouse of Wisdom.
The tower is most famous for its association with Arts and Crafts founder William Morris. Morris got to know the Tower in the 1870s when his friend, Crom Price, rented it. The Tower also became a popular country retreat for artists including Dante Gabriel Rosetti, Edward Burne-Jones and other early members of the Arts and Crafts movement.
Morris set up a printing press inside the tower, and one entire floor is now set up as an exhibit covering his life and association with Broadway. He is said to have been inspired by the tower to found the Society for the Protection of Ancient Buildings in 1877.
In 1960 an underground nuclear bunker came into operation here. Its purpse was to track and record incoming nuclear weapons, locate their blast points and measure how powerful the explosion had been.
With the end of the Cold War in 1991, the bunker was closed. It remains in immaculate condition and tours of the bunker can be booked.
Further reading
Links to external websites are not maintained by Bite Sized Britain. They are provided to give users access to additional information. Bite Sized Britain is not responsible for the content of these external websites.