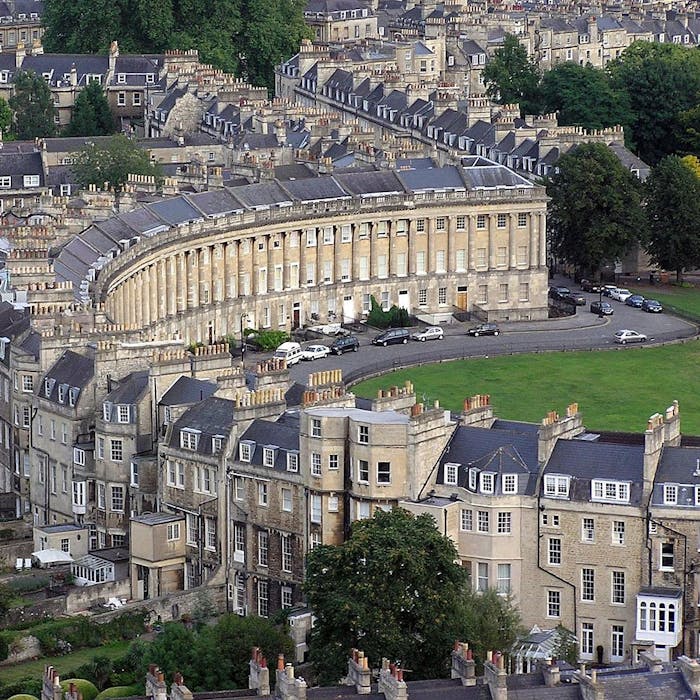 Buxton, Derbyshire's elegant spa town
The spa town of Buxton is in Derbyshire, on the edge of thePeak District National Park. It is England's highest market town, sited at some 1,000 feet (300 m) above sea level.
The Romans were attracted by the thermal springs here and developed only the second Roman Bath town in Britain (the other being Aquae Sulis in modern Bath). The springs at Buxton are not as hot as those at Bath, but still a pretty toasty 28 °C or 82°F.
Buxton was beautified in the 18th century by the 5th Duke of Devonshire's ambition to create a spa town to rival Bath. The result was numerous elegant buildings to attract the great and the good to take the waters in Buxton.
The Victorians then continued to add resort buildings, villas and amenities such as the Buxton Baths, Pump Room, and Devonshire Dome which was, at the time, the world's largest unsupported dome - larger than the Pantheon, St. Peter's Basilica, and St Paul's Cathedral.
Buxton's Opera House, designed by Frank Matcham in 1903, is the highest opera-house site in the country.
Next door to the theatre are Buxton Pavilion Gardens, designed by Edward Milner, which were opened in 1871 and contain 93,000 m2 of gardens and ponds.
Even the railway station was designed by an architectural star - Joseph Paxton of Crystal Palace fame!
Sadly, and perhaps inevitably, some of the glorious pleasure palaces and hotels of the Georgian and Victorian eras have been demolished. However, much still remains and the town remains popular with tourists and as a base for exploring the Peak District.
The Buxton Mineral Water Company, owned by Nestlé, extracts and bottles mineral waters.
Buxton Crescent has recently been renovated and re-opened as a spa and hotel - so Buxton's spa tradition continues.
Further reading
Links to external websites are not maintained by Bite Sized Britain. They are provided to give users access to additional information. Bite Sized Britain is not responsible for the content of these external websites.