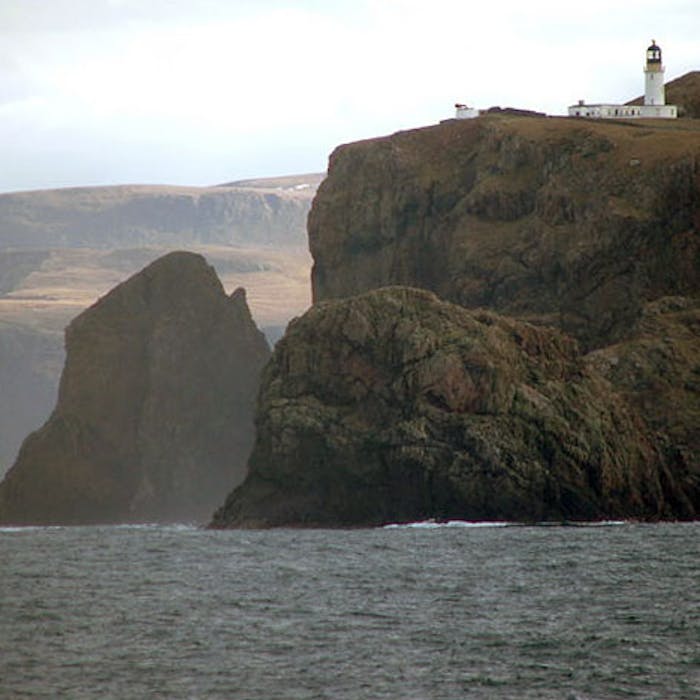 Cape Wrath - a dramatic point, miles from anywhere
The most north-westerly point in mainland Britain, Cape Wrath in Sutherland, Scotland, is one of the most remote places in the country. Visitors who reach this point will be rewarded with wild and beautiful scenery... and (thankfully) a cafe.
The name 'wrath' is not a reference to the broiling sea often to be found here, but from an Old Norse word meaning 'turning point.'
Cape Wrath is genuinely empty and isolated - accessible either by a treacherous 11-mile rudimentary road (it takes an hour to drive), or by a 200-mile backpacking trail that's considered the hardest hike in Britain. Even the Cape Wrath Hotel is a considerable distance away!
Approaching by road, travellers first cross the Kyle of Durness by passenger ferry from Keoldale, and then must join a minibus tour guide through a Ministry of Defence firing range to continue all the way on to the 19th-century lighthouse at the end.
The minibus driver provides a commentary along the route to the Cape. The views are impressive, and there is even the possibility of spotting some whales from the tops of the cliffs. This undeveloped landscape, spanning over 100 square miles, is an ideal home for a diversity of wildlife, including thousands of seabirds that nest in the cliffs. 
On arrival, one can find the Ozone Cafe, run by a father and daughter who are the only permanent residents of Cape Wrath. In the 1930s there was a population of 30 to 40 people, including a small school which had up to ten pupils in the 1930s, but closed in 1947. 
The slender tourism industry at Cape Wrath can sometimes be hampered by the activities of the military. Cape Wrath sprawls over 50,000 acres and is home to the largest bombing range in Western Europe. UK and other European forces plus Nato jets and navy ships fire live shells (including, allegedly, uranium-tipped missiles) into the barren landscape and often close down the road and access to the Cape.
Those that make it to this spot will be rewarded with a lonely lighthouse, the highest cliffs (281m) on the mainland, and views to the east of Dunnet Head, the most northerly point of Britain, and the outline of the Orkney island of Hoy.
Further reading
Links to external websites are not maintained by Bite Sized Britain. They are provided to give users access to additional information. Bite Sized Britain is not responsible for the content of these external websites.