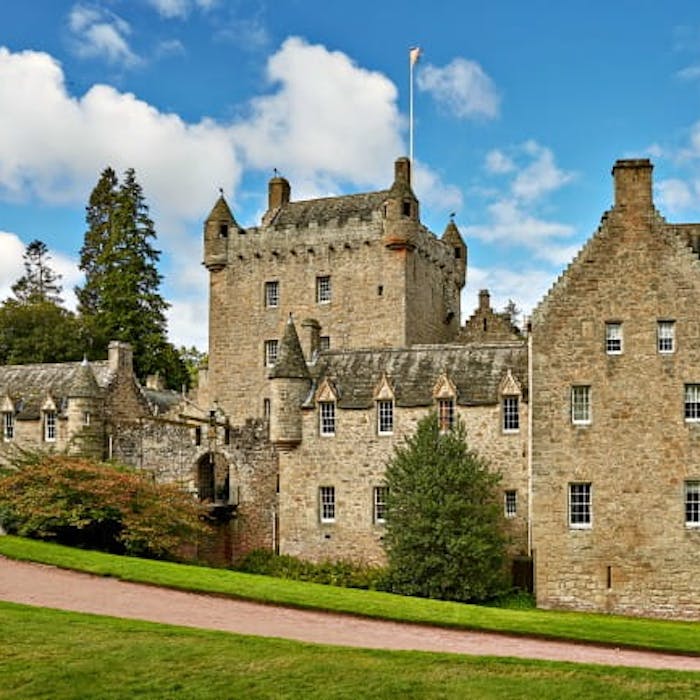 Cawdor Castle
Cawdor Castle is a castle in Nairnshire, Scotland, northeast of Inverness. The castle is perhaps best known for its literary connection to William Shakespeare's tragedy "Macbeth", in which the title character is made "Thane of Cawdor".
However, the story is highly fictionalised, and the castle itself, which is never directly referred to in Macbeth, was built many years after the life of the 11th-century King Macbeth (who was never Thane of Cawdor in real life).
The castle has much to interest visitors, though. One curious feature of the castle is that it was built around a small, living holly tree. Tradition states that a donkey, laden with gold, lay down to rest under this tree, which was then selected as the site of the castle. The remains of the tree can still be seen in the lowest level of the tower. Modern scientific testing has shown that the tree died in approximately 1372. Architectural historians have dated the style of stonework in the oldest portion of the castle to approximately 1380, so it seems that the story is true.
The castle is built around a 15th-century tower house, with substantial additions in later centuries. Originally a property of the Calder family, it passed to the Campbells in the 16th century. It remains in Campbell ownership, and is now home to the Dowager Countess Cawdor, stepmother of Colin Campbell, 7th Earl Cawdor.
The gardens of Cawdor Castle are nationally significant and display a wealth of flora and fauna.
Further reading
Links to external websites are not maintained by Bite Sized Britain. They are provided to give users access to additional information. Bite Sized Britain is not responsible for the content of these external websites.