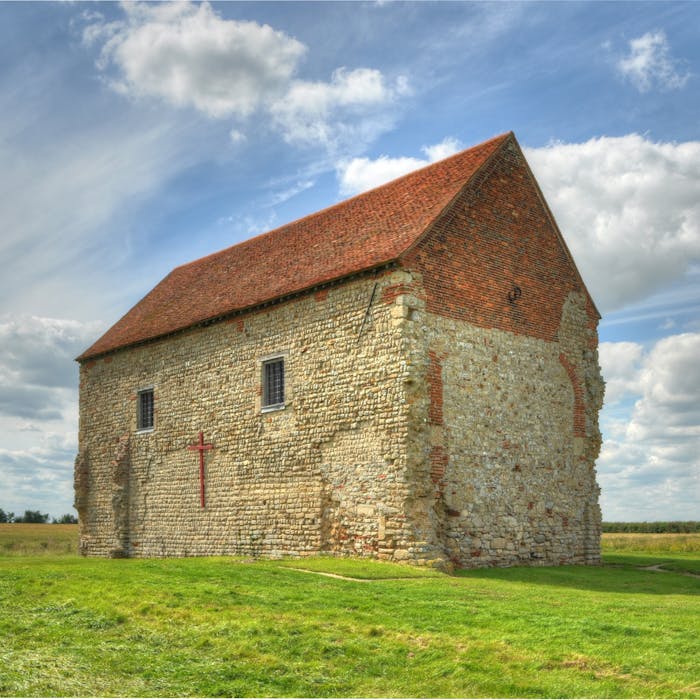 Chapel of St. Peter on the Wall - a Saxon repurposing of Roman bricks
The Chapel of St Peter-on-the-Wall, near the village of Bradwell-on-Sea, Essex, is a Grade I listed building and among the oldest largely intact Christian churches in England - dating from 660–662. It is in an isolated spot, in the flat countryside beyond the village.
Despite its remoteness, the church is still in regular use as part of the nearby Othona Christian Community, in addition to holding Church of England services.
The church's name comes from the story that St. Peter sat on the wall of the abandoned Roman fort, Othona, here, and the church was then founded on the same spot, using many of the Roman bricks.
The chapel is thought to have been constructed by Bishop Cedd (later St. Cedd) in 654 for the King of the East Saxons. Roman bricks and stones were certainly used in its construction, and the sturdy walls are more than two feet thick, necessary for helping keep out the biting wind in this exposed position.
After Cedd died of the plague, St Peter's became part of the Diocese of London and completely disappeared from church records until the 1400s.
In its long history, the church has survived fires, King Henry VIII's dissolution of the monasteries, being used as a cowshed by resourceful locals, and heavy bombing in the area during World War II. 
During the 1920s, the chapel was restored and reconsecrated. In the 1950s, it became a Grade I Listed building, gaining the protection to never be used as a barn again.
As well as attendance at the weekly church services, it is also a pilgrimage site. Some pilgrims and ramblers make the 45-mile journey from Chipping Ongar, Essex, along St. Peter's Way - a beautiful route surrounded by wild places and steeped in history.
Further reading
Links to external websites are not maintained by Bite Sized Britain. They are provided to give users access to additional information. Bite Sized Britain is not responsible for the content of these external websites.