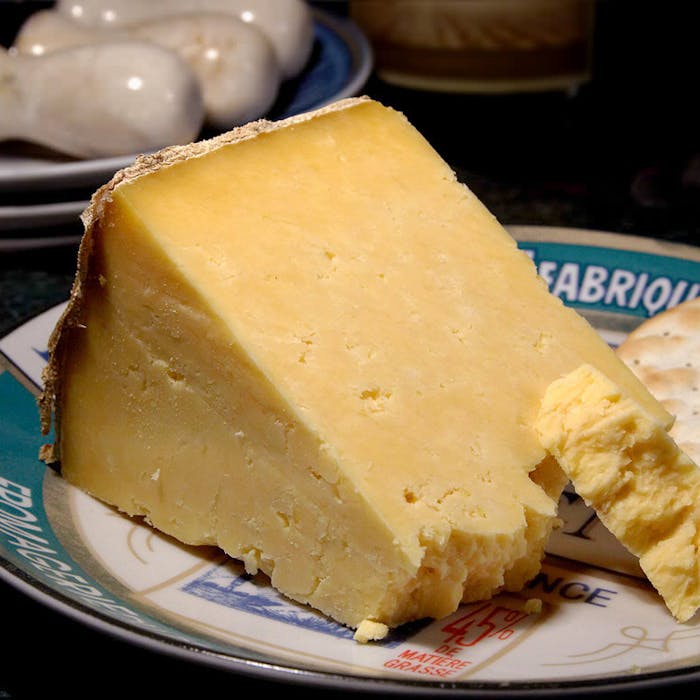 Cheshire Cheese - the oldest British cheese
Cheshire cheese is one of the oldest recorded named cheeses in British history: it is first mentioned, along with a Shropshire cheese, by Thomas Muffet in his book "Health's Improvement" (c. 1580). It has been said that the cheese is mentioned in the Domesday Book, but this is sadly not true!
Cheshire cheese is a dense and crumbly cheese produced in the English county of Cheshire, and four neighbouring counties, Denbighshire and Flintshire in Wales and Shropshire and Staffordshire in England.
Cheshire was the most popular type of cheese on the market in the late 18th century. In 1758 the Royal Navy ordered that ships be stocked with Cheshire and Gloucester cheeses. By 1823, Cheshire cheese production was estimated at 10,000 tonnes per year; in around 1870, it was estimated as 12,000 tons per year.
Cheshire was a cheaper cheese for Londoners to buy than Cheddar or Stilton.
Until the late 19th century, the different varieties of Cheshire cheeses were aged to a sufficient level of hardness to withstand the rigours of transport (by horse and cart, and later by boat) to London for sale. Younger, fresher, crumbly cheese that required shorter storage – similar to the Cheshire cheese of today – began to gain popularity towards the end of the 19th century, particularly in the industrial areas in the North and the Midlands. It was a cheaper cheese to make as it required less storage.
Sales of Cheshire cheese peaked at around 40,000 tonnes in 1960, subsequently declining as the range of cheeses available in the UK grew considerably. Cheshire cheese remains the UK's largest-selling crumbly cheese, with sales of around 6,000 tonnes per year.
The county remains an important centre for cheese and cheese making, and holds the Nantwich International Cheese Awards.
The grinning Cheshire Cat of Lewis Carroll's Alice in Wonderland is thought to be possibly linked to Cheshire cheese. According to Brewer's Dictionary in 1870, "The phrase has never been satisfactorily accounted for, but it has been said that cheese was formerly sold in Cheshire moulded like a cat that looked as though it was grinning". The cheese was cut from the tail end, so that the last part eaten was the head of the smiling cat.
Further reading
Links to external websites are not maintained by Bite Sized Britain. They are provided to give users access to additional information. Bite Sized Britain is not responsible for the content of these external websites.