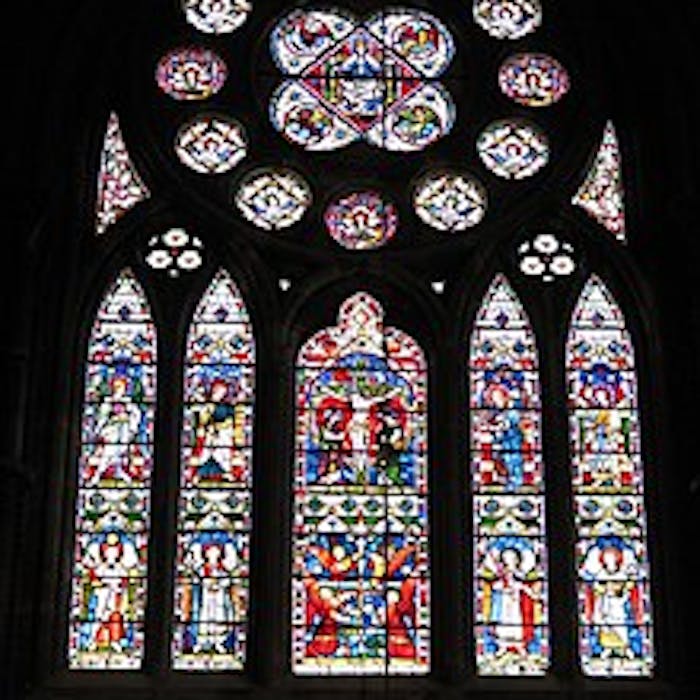 Clayton & Bell - Victorian glass window makers
The London firm of Clayton and Bell was probably the most successful and prestigious stained glass window makers of the Victorian era.
Clayton and Bell's commercial success was due to the high demand for stained-glass windows at the time, their use of the best-quality glass available, the excellence of their designs and their employment of efficient factory methods of production. They collaborated with many of the most prominent Gothic Revival architects.
The firm takes its name from the two founders, John Richard Clayton (1827-1913), and Alfred Bell (1832-95). Clayton was from London. He became an illustrator, and was friends with several Pre-Raphaelite artists, most notably Dante Gabriel Rosetti. Alfred Bell, by contrast, was born in Devon, the son of a farm worker.
Their partnership came about through eminent architect Sir George Gilbert Scott, the designer of the Albert Memorial. Scott saw some of Bell's drawings in the 1840s and was so impressed that he hired him, and trained him in the then-popular Gothic Revival style.
Clayton trained as a sculptor under the architect Sir Charles Barry and created the sculpture of St George on top of the Westminster School war memorial. Bell initially formed a partnership with Nathaniel Lavers before joining forces with John Clayton, and they started their new company in 1855. The two men were firm friends and according to tradition were only known to have argued once - when each man wanted the other's name to be first in the company name.
Sir George Gilbert Scott gave them several commissions, and the firm thrived. Within a few years, it had become the largest and most prolific manufacturers and designers of stained glass windows in England. In order to keep up with demand, the company had to start working night shifts. This is because the mid-Victorian period saw a revitalisation of the Church of England. Many medieval churches were being restored and rebuilt, and there was a growing market for high-quality stained glass windows.
So successful were they that Clayton and Bell expanded from merely designing and manufacturing stained glass windows and began designing church murals and entire decorative schemes.
Among Clayton and Bell's most famous stained glass commissions in Britain were the West Window of King's College Chapel, Cambridge (1878) and windows for Exeter Cathedral (1873-76), Rochester Cathedral (1871-76), Bangor Cathedral (1870), and Pershore Abbey (1864 and 1869-73). They designed several windows in Westminster Abbey and St Margaret's Church in Westminster.
Their most famous design, however, wasn't for a stained glass window. Sir George Gilbert Scott gave them the commission to design the mosaics that decorate the sides and dome of the Albert Memorial in Kensington Gardens, London. Queen Victoria awarded Clayton and Bell a royal warrant in 1883 - a mark of recognition given to companies or individuals who supply the royal court with goods or services.
Alfred Bell and John Clayton had retired from active participation in company affairs by the 1880s. The company was run by a succession of Bell's heirs; John Clement Bell (1860–1944) was succeeded by Reginald Otto Bell (1884–1950) and then by Michael Farrar-Bell (1911–1993). The company moved from London to Buckinghamshire after WWII and ceased operating after Farrar-Bell's death in 1993.
Further reading
Links to external websites are not maintained by Bite Sized Britain. They are provided to give users access to additional information. Bite Sized Britain is not responsible for the content of these external websites.