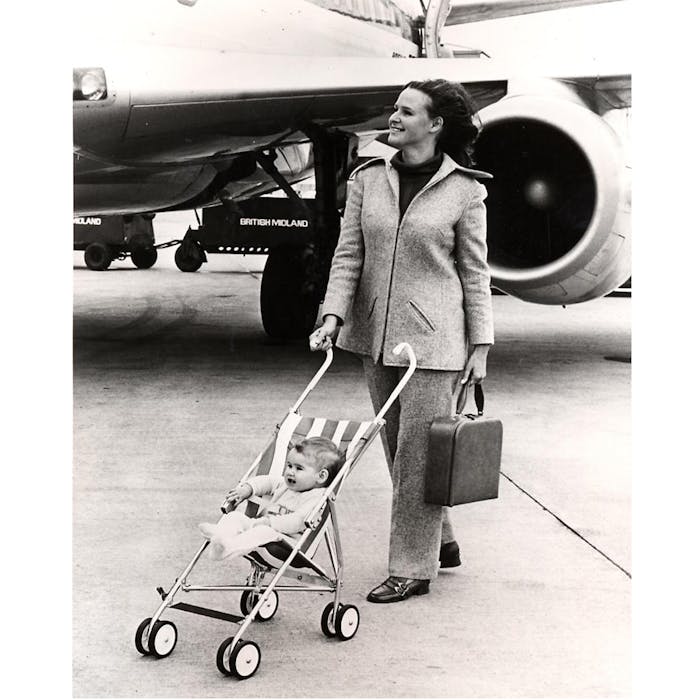 Collapsible Baby Buggy
Owen Maclaren, a former test pilot and designer of the Supermarine Spitfire undercarriage, was inspired to invent the collapsible baby buggy when his daughter visited from Moscow with his first grandchild.
His daughter had married George Hambledon of Pan Am, making many flights to London.
After watching the parents struggle with the clumsy conventional pushchair, he used his knowledge of lightweight, collapsible structures to create a new generation of infant transport and inspire the design of future collapsible objects such as the Strida bicycle.
The first buggy was designed in 1964 in his medieval farmhouse stables in Barby, Northamptonshire. He patented the idea in 1965, founding his company, the Maclaren Company, in 1965 to make more buggies.
Though pushchairs existed that folded in half, Maclaren's patented frame folded in half and in on itself – like an umbrella – smaller and lighter than any product that came before. The one-step umbrella-fold design allowed busy parents to quickly fold the stroller with one hand, while holding the baby in the other - forever changing the world of baby transport.
The buggy went on sale in 1967, and roughly a thousand of them were manufactured that year. In 1976 that number rose to 600,000 buggies produced a year.
In January 1978, Queen Elizabeth II awarded him with an MBE in the New Year's Honours List.
Today, a modern version of his light-weight, foldable buggy is sold in more than 50 countries.
Further reading
Links to external websites are not maintained by Bite Sized Britain. They are provided to give users access to additional information. Bite Sized Britain is not responsible for the content of these external websites.