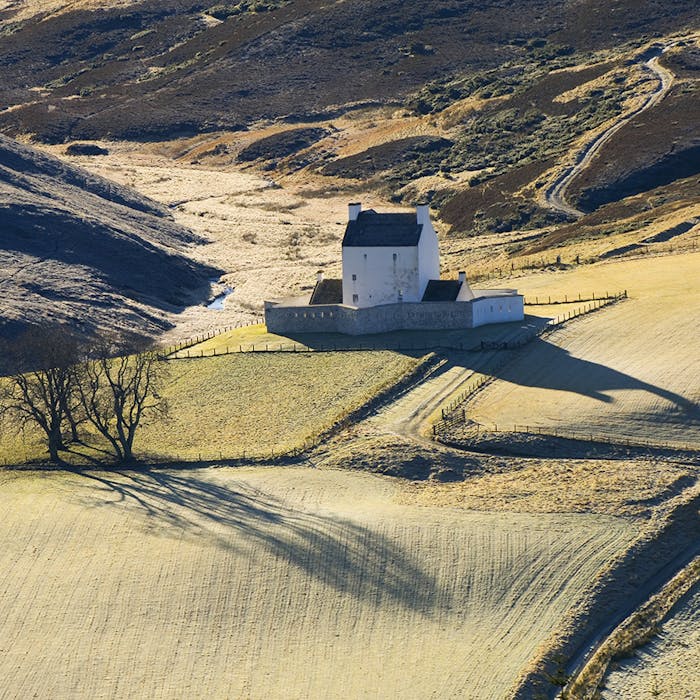 Corgarff Castle - in splendid Highland isolation
Corgarff Castle, near Strathdon by Cairngorms National Park in Scotland, has a striking look - as a result of changes made over the years. Originally created as a tower house in the 1500s, it was altered in the Georgian period to create a fort for government troops, and this has left it looking strangely Napoleonic, sitting in splendid isolation beneath the Highland mountains.
Through much of its history Corgarff has been of strategic importance, guarding the quickest route from Deeside to Speyside. Originally it was the fortified home of the Forbes of Corgarff.
In November 1571, Adam Gordon of Auchindoun Castle tried to capture Corgarff Castle. The Forbes menfolk were absent, but John Forbes' wife, Margaret, refused to surrender the castle and shot one of Gordon's men through the knee with a pistol. In response Adam Gordon piled kindling against the castle and burned it down, killing Margaret Forbes and the 27 other women, children and servants who were inside.
The building was also burned by the Jacobites in 1689 and 1690, and converted into a barracks for government troops a few years after the battle of Culloden in 1748. This was when it acquired its distinctive star-shaped perimeter wall. For the next 95 years, the 'Red-coats' stationed here patrolled Strathdon, hunting down Jacobite sympathisers. In later years they helped the excisemen to stamp out the illegal production and smuggling of whisky.
The building is austere, but immensely atmospheric. Visitors can see reconstructed barrack rooms, bakehouse and brewhouse. It must have been a lonely posting in this remote location, looking out over the moors, surrounded by a hostile population.
Further reading
Links to external websites are not maintained by Bite Sized Britain. They are provided to give users access to additional information. Bite Sized Britain is not responsible for the content of these external websites.