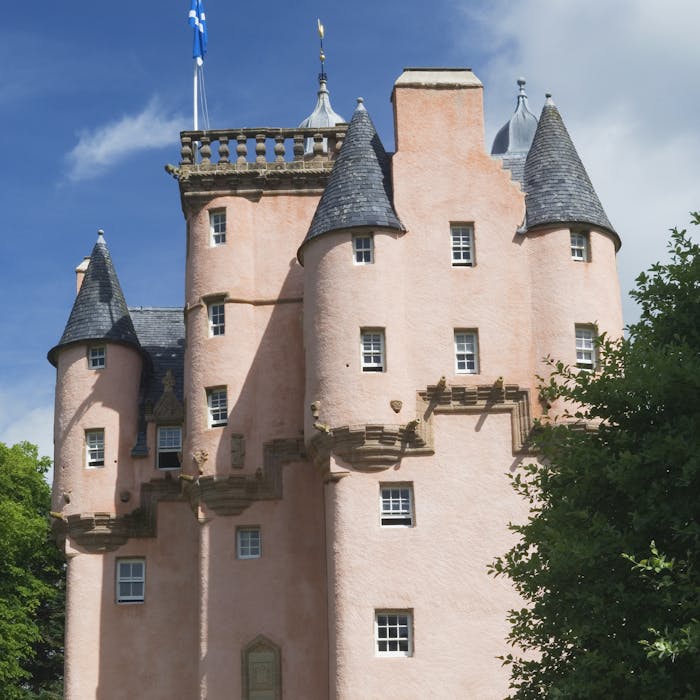 Craigievar Castle - a fairytale-style creation
The powder pink castle in the foothills of the Cairngorms may look familiar. That's not too surprising, as Craigievar Castle in Aberdeenshire is said to be the inspiration for Walt Disney's iconic 'Cinderella Castle' imagery.
Built in 1626 for the Forbes family, the Scottish castle at Craigievar has remained practically unchanged since. With its slender tower capped with turrets, cupolas, and gargoyles, Craigievar is one of the best examples of the Scottish Baronial style of architecture.
It remained in the ownership on one family for 350 years, and was a family home until the 1960s, harbouring a quirky blend of cosy interiors and rare antiquities inside.
In accordance with the former owner's wishes, it has been preserved subsequently in a similar style. Artificial light has not been installed in the upper floors, allowing the castle's extensive collection of historic artefacts and art to be seen in the shifting light from the sun, exactly as they would have been when they were made. There are also gardens and woodland trails to explore. Access to the castle interior is by guided tour, with a maximum of 10 on each tour.
A striking feature of Craigievar is the ornate ceilings in most of the rooms. The castle appears to have been built with an emphasis on its role as a comfortable family home. Many of the rooms feature attractive wood-panelling and tasteful period décor. The castle does have defensive features but these are more for architectural effect than for any real security against enemy attack.
Owned by the National Trust for Scotland, Craigievar Castle is one of many castles for which members of the National Trust in the UK (and beyond) qualify for free entry through reciprocal arrangements.
Further reading
Links to external websites are not maintained by Bite Sized Britain. They are provided to give users access to additional information. Bite Sized Britain is not responsible for the content of these external websites.