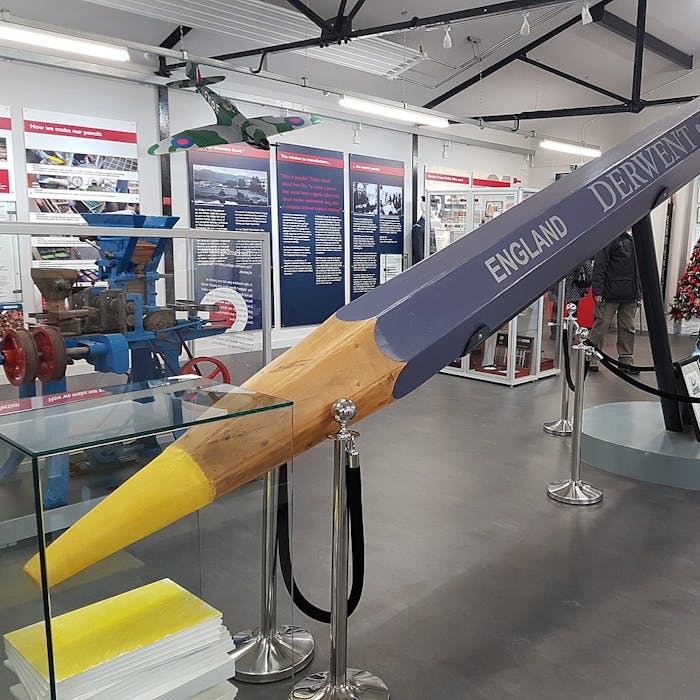 Drawing the tourists - the Derwent Pencil Museum
The Derwent Pencil Museum is located in Keswick, Cumbria. It tells the story of graphite production and pencil-making, which was a major industry in the Lakeland area. The company behind the Keswick factory produced pencils for nearly 200 years, and this now continues in nearby Workington at a new premises. The museum houses what is said to be the world's largest coloured pencil.
Pencil manufacturing in and around Keswick goes back nearly two centuries, but the discovery of graphite goes back much further, to around the 16th century. Rather like coal, but harder, graphite was used for all kinds of things besides pencils, including munitions manufacturing. Graphite mining became a major industry in Cumbria, and several factories began to pop up in the 19th century to take advantage of the supply.
What was to become the Cumberland Pencil Company goes back to 1832, when it began making writing implements under the name of Banks, Son & Co. The company changed hands a few times over the years, becoming Hogarth & Hayes in 1875, and finally the Cumberland Pencil Company in 1916. The factory turned out graphite pencils, coloured pencils and artist's charcoal for another 90 years, finally closing in 2007, when the business was relocated 20 miles west to the town of Workington, where fine pencils and other art supplies are still made under the brand Derwent. The original 1930s Keswick factory has subsequently been turned into a conference venue.
The museum collection includes special WW2 "spy" pencils. Charles Fraser-Smith (who is thought to have been the inspiration for the gadget guru "Q" in Ian Fleming's Bond stories) came up with lots of inventions and gadgets for soldiers and flyers during the War. One of these was a pencil with a secret compartment to hide a map and a compass. Fraser-Smith thought that such a pencil could be used by British prisoners of war, to aid them in an escape. When he needed a company to help produce his James-Bond-escape-artist pencils, he paid a visit to the Cumberland Pencil Company.
Other exhibits include a giant pencil measuring almost 8 metres; a replica graphite mine; the Queen's Diamond Jubilee pencil; and miniature pencil sculptures.
Further reading
Links to external websites are not maintained by Bite Sized Britain. They are provided to give users access to additional information. Bite Sized Britain is not responsible for the content of these external websites.