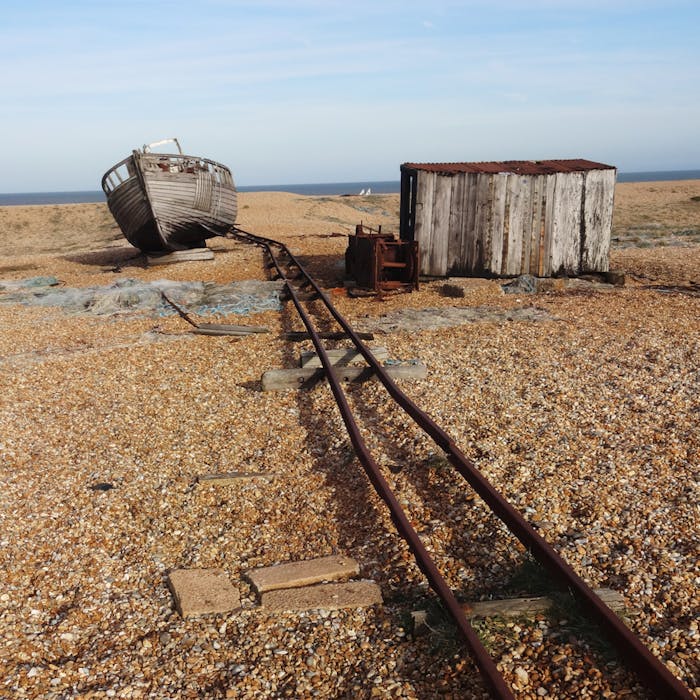 Dungeness - a very odd spot
Dungeness is a headland on the coast of Kent, formed largely of a shingle beach. A combination of factors - the endless shingle, strange plants, boat skeletons, lighthouses, nuclear power station, nature reserve, miniature railway and miniature houses, plus the brooding near presence of the MOD combine to make this an eerie place.
The Dungeness headland shelters a large area of low-lying land, the Romney Marsh. This "end of the world" location includes Dungeness Nuclear Power Station, the hamlet of Dungeness, and a RSPB nature reserve.
It has been said that Dungeness is like Marmite, you either love it or hate it. The landscape certainly divides people – a broad, echoing flatness with the nuclear power stations on one side, the shingle dipping into the sea on the other and railway carriages turned into quaint and strange looking dwellings.
The stark wild beauty and distinctive character of this shingle desert engenders feelings of awe, wonder and curiosity.
Dungeness is a unique environment that has been designated as a Site of Special Scientific Interest and as a result has captured the imagination of photographers and artists for years. The landscape is so barren that it has become a well-known landmark and unlikely tourist spot, attracting one million visitors annually.
Long wooden boardwalks lead down to the sea, passing derelict wooden boats and ancient winching sheds. Every now and then on the shingle is a large clump of sea kale or yellow poppies, improbably happy in this salty, shifting environment.
The area is dominated by two nuclear power stations, one currently being decommissioned; two lighthouses and is at the end of the line for the Romney, Hythe and Dymchurch Railway.
There is a scattered collection of dwellings; many are built around old railway coaches and are owned and occupied by fishermen. Others are occupied by people trying to escape the pressured outside world. The shack-like properties have a surprisingly high value. Perhaps the most famous house is Prospect Cottage, formerly owned by the late artist and film director Derek Jarman.
Dungeness is an important ecological site with flora and fauna unique to its shingle, and is home to 600 species of plants, which is a third of all plants found in the UK. The site represents the most diverse and extensive example of stable vegetated shingle in Europe.
It is also one of the best places in Britain to find insects such as moths, bees and beetles, and spiders; many of these are very rare, some found nowhere else in Britain. The short-haired bumblebee, Bombus subterraneus, was last found in the UK in 1988, but has survived in New Zealand after being shipped there more than 100 years ago. It is to be reintroduced at Dungeness.
The flooded gravel pits on Denge Beach, both brackish and fresh water, provide an important refuge for many migratory and coastal bird species. The RSPB has a bird sanctuary there and every year thousands of bird watchers descend on the peninsula to catch a glimpse of a rare bird from the bird observatory.
Further reading
Links to external websites are not maintained by Bite Sized Britain. They are provided to give users access to additional information. Bite Sized Britain is not responsible for the content of these external websites.