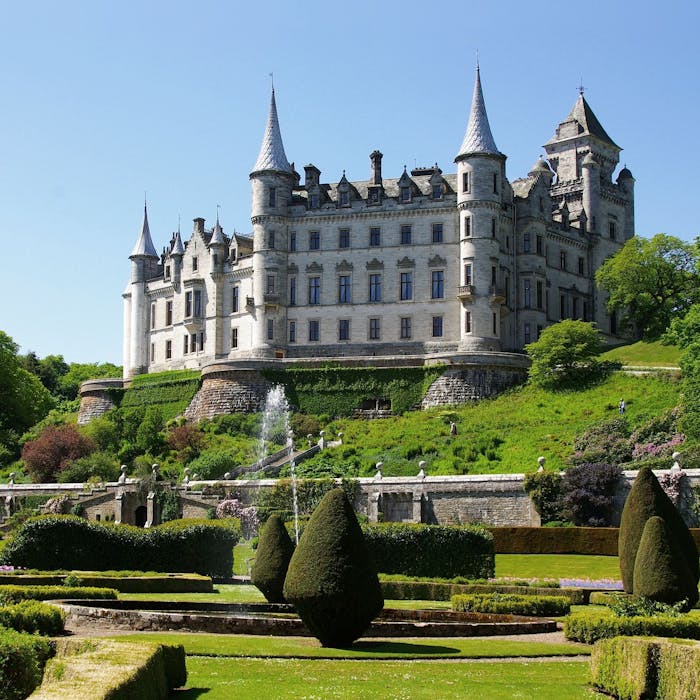 Dunrobin Castle - one of Scotland's most stunning castles
The largest castle in the northern Highlands, Dunrobin was extensively remodelled in the 1830s by Sir Charles Barry. It overlooks the waters of the Dornoch Firth and even has its own railway station.
Dunrobin Castle is in Sutherland, in northern Scotland, 50 miles north of Inverness. It is the family seat of the Earl of Sutherland and the Clan Sutherland.
The oldest part of the castle dates to before 1400, but there have been many extensions and remodels of the castle over the centuries. The castle has wood carvings attributed to Grinling Gibbons.Between 1835 and 1850, Sir Charles Barry remodelled the castle in the Scottish Baronial style for the 2nd Duke of Sutherland. Barry had been the architect for the Palace of Westminster, home to the House of Commons, and was much in demand.
The result is a very romantic and French-looking castle, with beautiful gardens inspired by Versailles.
The Castle was used as a naval hospital during the First World War and as a boys' boarding school from 1965 to 1972. Unfortunately, a fire in 1915 destroyed most of Barry's interiors.
The castle has been open to the public since 1973, with the Sutherland family still in residence
Dunrobin Castle has its own railway station, opened in 1870 as a private station for the castle, with a waiting room built in the Arts and Crafts style. The station is still in use and part of ScotRail, with services running from late spring to early autumn to serve visitors to the castle.
Further reading
Links to external websites are not maintained by Bite Sized Britain. They are provided to give users access to additional information. Bite Sized Britain is not responsible for the content of these external websites.