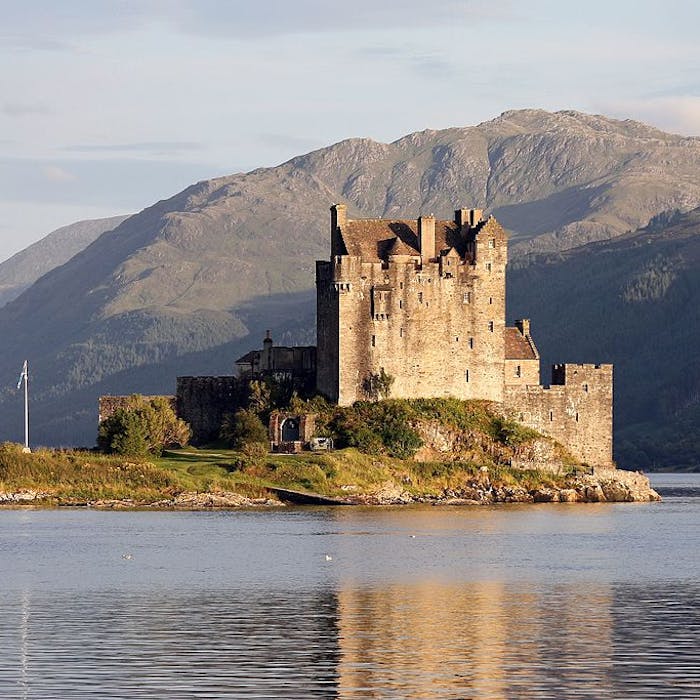 Eilean Donan Castle - an impressive fortress surrounded by a loch
Eilean Donan Castle is a famously picturesque Scottish castle that may be recognised from numerous photographs, film and television programmes. As well as its impressive siting, its position between Loch Ness and the Isle of Skye also puts it well on the tourist map.
Eilean Donan itself is a small tidal island where three sea lochs meet, Loch Duich, Loch Long and Loch Alsh, in the western Highlands of Scotland.
The castle was founded in the thirteenth century, and became a stronghold of the Clan Mackenzie. In the early eighteenth century, the Mackenzies' involvement in the Jacobite rebellions led in 1719 to the castle's destruction by Royal Navy ships whilst it was occupied by the Jacobites' Spanish allies. Lieutenant-Colonel John Macrae-Gilstrap reconstructed the ruins in the 1920s.
Since the castle's restoration in the early 20th century, a footbridge has connected the island to the mainland.
The castle opened to the public in 1955 and is regularly described as one of the most photographed monuments in Scotland.
Further reading
Links to external websites are not maintained by Bite Sized Britain. They are provided to give users access to additional information. Bite Sized Britain is not responsible for the content of these external websites.