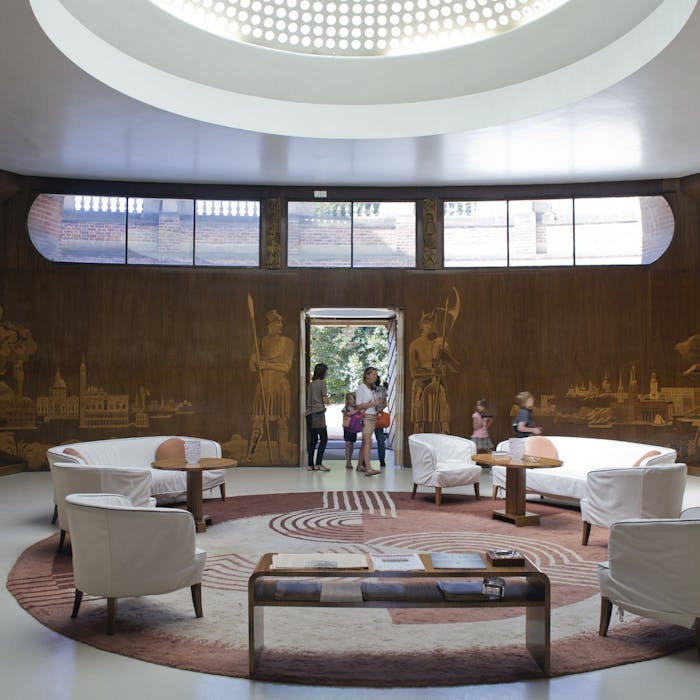 Eltham Palace - celebration of the Jazz Age added to a Tudor palace
Eltham Palace in South East London is a uniquely charming combination of Tudor Palace and wealthy industrialists' luxury 1930's Art Deco home. It has frequently featured as a setting in films and television programmes.
The original moated palace was given to Edward II in 1305 by the Bishop of Durham, and used as a royal residence from the 14th to the 16th century.
The future Henry VIII grew up here.
The property was put to a variety of uses over the next centuries, but became rundown. It was then revitalised by eccentric millionaires Stephen and Virginia Courtauld, members of the textile dynasty, in the first half of the 20th century. They took over the site in 1933 and stayed until 1944, leaving behind a perfect example of a home in the Art Deco style – incorporating all the latest modern features, including gorgeous inlaid wood panelling, a golden bathroom, curved walls, geometric patterns and an early mechanised vacuum cleaner. They even had a room for their pet lemur.
The Great Hall of the old palace was restored as a venue for society parties, and provides an amazing contrast to the rest of the house.
Films and television programmes that have used Eltham Palace as a setting include The Gathering Storm, Brideshead Revisited, Hustle, The Crown, and Poirot.
Further reading
Links to external websites are not maintained by Bite Sized Britain. They are provided to give users access to additional information. Bite Sized Britain is not responsible for the content of these external websites.