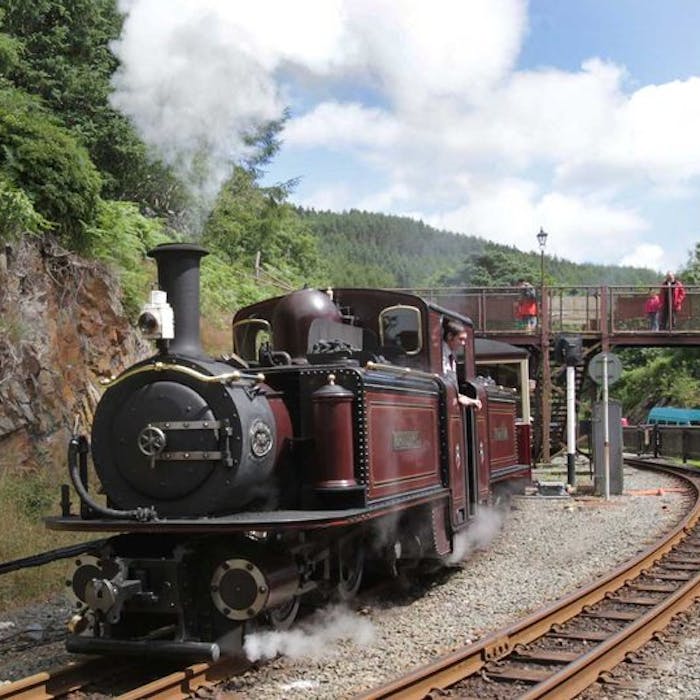 Ffestiniog Railway - pioneering Welsh slate mine link, now tourist delight
The Ffestiniog Railway is a narrow-gauge heritage railway in north Wales. It runs from Porthmadog on the coast to the slate mining town of Blaenau Ffestiniog, travelling through forested and mountainous scenery.
Once an important industrial freight route carrying the slate fromt he mine, it is now a major tourist attraction - particularly as it is located mainly within the Snowdonia National Park. The Festiniog Railway Company which owns the railway is the oldest surviving railway company in the world.
Construction of the railway was first suggested in 1830, in the early days of railways, as a way of more efficiently carrying slate from the mines in the mountains down to the port at Porthmadog. Prior to the construction of the railway, slate was hauled via a circuitous route by pack animals and river boat. In 1832, the Festiniog Railway Company was incorporated by an Act of Parliament.
The railway is roughly 13 1⁄2 miles long and runs from the harbour at Porthmadog to Blaenau Ffestiniog with 9 intermediate stations. The line is single track throughout with four passing places. The first mile of the line out of Porthmadog runs atop an embankment locally called the Cob.
The railway initially used gravity to get the slate down the mountains and horse-power to pull the empty wagons back up again. The narrow 23.5 inch gauge matched that already being used in the quarries, and was narrow enough to enable the railway to negotiate the sharp curves made necessary by the mountainous terrain.
Steam locomotives arrived in 1863.
By the mid-20th century, the slate industry was fading in importance, and the line became dependent on the tourism industry. This all came to an end with the outbreak of war, and the line was abandoned.
Throughout the 50s, 60s, and 70s enthusiasts worked to revive portions of the Ffestiniog Railway until, in 1982, the entire line was restored. It is still a very popular tourist attraction today, with visitors carried up from sea level to 700 feet into the mountains through pastures and forests, lakes and waterfalls, round horseshoe bends and a even a complete spiral - both clinging to the side of the mountain and tunnelling through it.
The original slate mines and caves were made into a heritage site, which is now run as an above-and-below ground adventure attraction by Zip World.
Further reading
Links to external websites are not maintained by Bite Sized Britain. They are provided to give users access to additional information. Bite Sized Britain is not responsible for the content of these external websites.