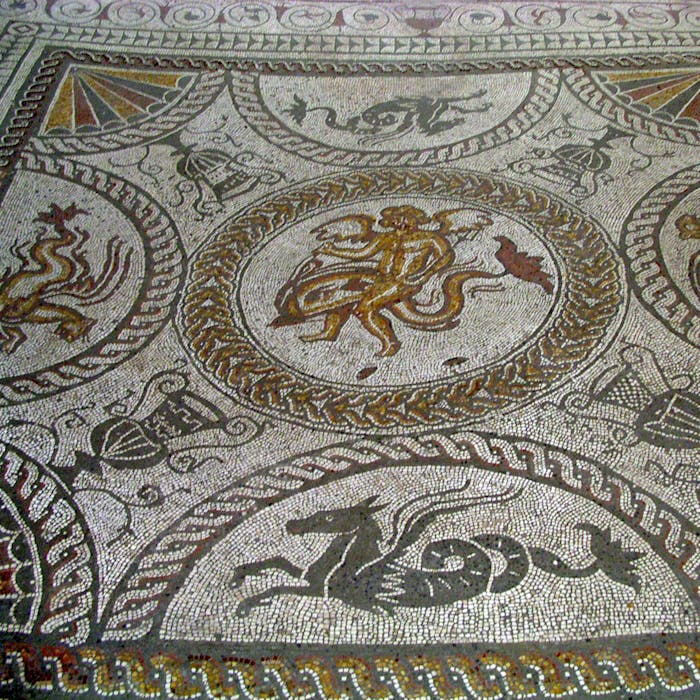 Fishbourne Roman Palace
Fishbourne Roman Palace near Chichester in West Sussex is the largest Roman residence ever found north of the Alps. Visitors can see the largest collection of mosaics in situ in the UK, as well as recreated Roman gardens.
The site was accidentally discovered in 1805, during the construction of a new home on the grounds of the ancient Roman ruin. Workers discovered a 13-foot-wide pavement as well as fragments of columns. In the following years, additional remains such as pottery fragments and portions of mosaic tiles were unearthed by local inhabitants who lived within close proximity to the site.
It wasn't until 1960, that Aubrey Barrett, an engineer working for the Portsmouth Water Company, discovered the foundations of a "masonry building" located north of the main road while digging a trench for a water main.
This rediscovery of the ancient structure triggered excavations of the site from 1961.
Archaeologists were amazed by the size of the villa as it was unearthed, and it became known as Fishbourne Roman Palace. In size, it is as large as Nero's Golden House in Rome and larger than Buckingham Palace!
The villa has an unusually early date of 75 AD, around thirty years after the Roman conquest of Britain. Much of the palace has been excavated and is preserved, along with an on-site museum. The rectangular palace surrounded formal gardens, the northern parts of which have been reconstructed. 
The north and east wings each consisted of suites of rooms built around courtyards, with a monumental entrance in the middle of the east wing.
In the north-east corner was an enormous aisled assembly hall.
The west wing contained state rooms, a large ceremonial reception room, and a gallery.
The south wing probably contained the owner's private apartments.
The palace included as many as 50 excellent mosaic floors,under-floor central heating and an integral bathhouse.
The garden had fountains and a vast artificial terrace laid out as a rectangular garden extending 300 ft towards the sea where there was a quay wall. This garden was planted as a "natural" landscape with trees and shrubs, and with a pond and stream. It also had colonnades on at least one side.
Extensive alterations were made in the second and third centuries AD, when many of the original black and white mosaics were overlaid with more sophisticated coloured work, including the perfectly preserved Dolphin mosaic in the north wing. More alterations were in progress when the palace burnt down in around 270 CE, after which it was abandoned, and the building stones were taken away over the centuries to be re-used elsewhere.
Further reading
Links to external websites are not maintained by Bite Sized Britain. They are provided to give users access to additional information. Bite Sized Britain is not responsible for the content of these external websites.