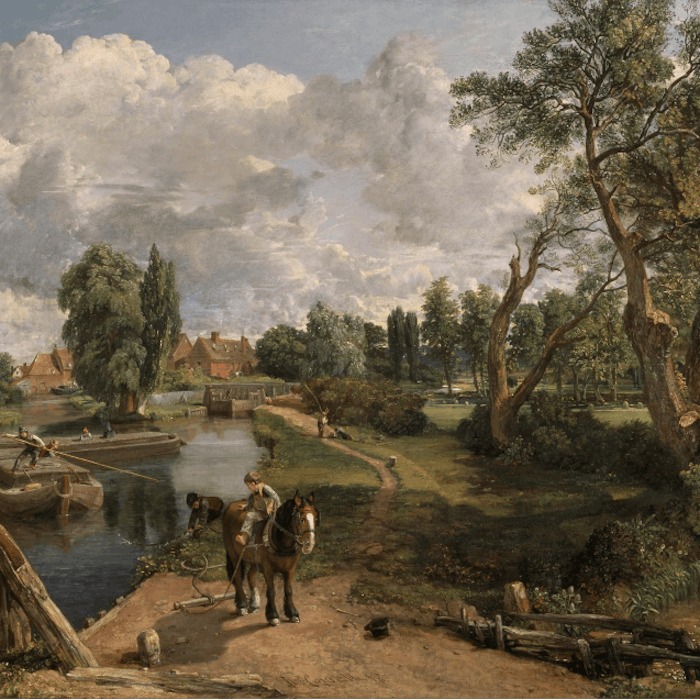 Flatford Mill - immortalised by Constable and now a national treasure
Flatford Mill is a Grade I Listed watermill on the River Stour, in Suffolk, immortalised by artist John Constable in 1816. The mill itself, according to the date-stone, was built in 1733, and is attached to a 17th-century miller's cottage, also Grade I Listed. One of the owners of the mill was the artist's father.
The mill is in Dedham Vale, a typically English rural landscape on the Essex-Suffolk border.
John Constable RA was an English landscape painter in the Romantic tradition. Born in East Bergholt on the river Stour in Suffolk, he is known principally for revolutionising the genre of landscape painting with his pictures of Dedham.
Because John Constable's father was one of the owners, it features, along with its immediate surroundings, in many of Constable's works. However, it is referred to in the title of only one of his paintings, Flatford Mill (Scene on a Navigable River).
The National Trust acquired the mill in 1945. Since then, it has been leased to the Field Studies Council, who run residential field study visits for school students, and provide a range of natural history and art courses.
The National Trust have acquired more buildings and land in Flatford over the years. The buildings are rarely open to the public, but they offer visits focused on the Constable connection, and walks focusing upon the natural beauty of the area.
Further reading
Links to external websites are not maintained by Bite Sized Britain. They are provided to give users access to additional information. Bite Sized Britain is not responsible for the content of these external websites.