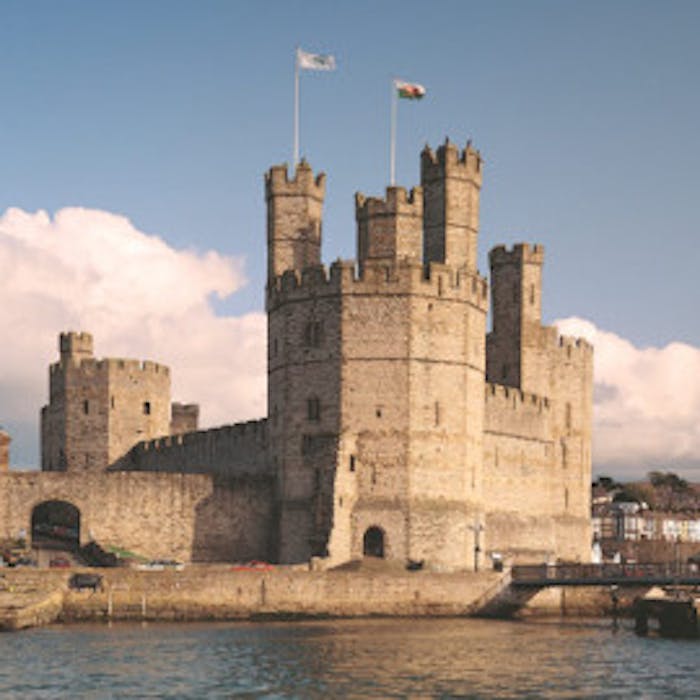 War and peace at Caernarfon Castle, North Wales
Caernarfon Castle is a medieval fortress in Gwynedd, north-west Wales. The first fortifications there were built by the Romans, on the outskirts of the modern town. Although little is known about the fate of the fort after the Romans departed in the early 5th century, another castle was built in the medieval period, and has enjoyed a rich history since.
In 1283, Edward I of England was victorious in a war between England and Wales. Shortly afterwards, he began to build several castles to help embed English rule in Wales, and Caernarfon Castle was one of the most impressive. The castle's design and construction was probably by James of Saint George, an experienced architect and military engineer. During construction, the body of Roman emperor Magnus Maximus was discovered, and Edward I ordered its reburial in a local church.
Town walls were built around Caernarfon when the castle was constructed, and completed in 1330. It was an expensive project, and dwarfed the spending on castles such as Dover and Château Gaillard, which were amongst the most expensive and impressive fortifications of the later 12th and early 13th centuries.
Edward I established stable governance, which lasted for about two centuries. The castle was constantly garrisoned, and Caernarfon was effectively the capital of north Wales. Following the Glyndŵr Rising (1400-1415), which saw erupting tensions between the Welsh and the English, Caernarfon was besieged - being a target of Owain Glyndŵr's army. But when the Tudors rose to the English throne in 1485, tensions eased, and castles became less important, and began to be neglected.
Caernarfon Castle last saw military action during the English Civil War. Held by Royalists, it was besieged by Parliamentarian forces three times. The castle constable, John Byron, surrendered Caernarfon to the Parliamentarians in 1646. In 1660, it was ordered that the castle and town walls should be dismantled - although the work seems to have been aborted early on.
The castle was neglected until the 19th century when the government funded repairs. It was then used for the investiture of the Prince of Wales in 1911 and again in 1969 (for the present Prince Charles). Under the care of Cadw, the Welsh Monuments body, it became a UNESCO World Heritage Site in 1986, and remains a major tourist attraction.
Further reading
Links to external websites are not maintained by Bite Sized Britain. They are provided to give users access to additional information. Bite Sized Britain is not responsible for the content of these external websites.