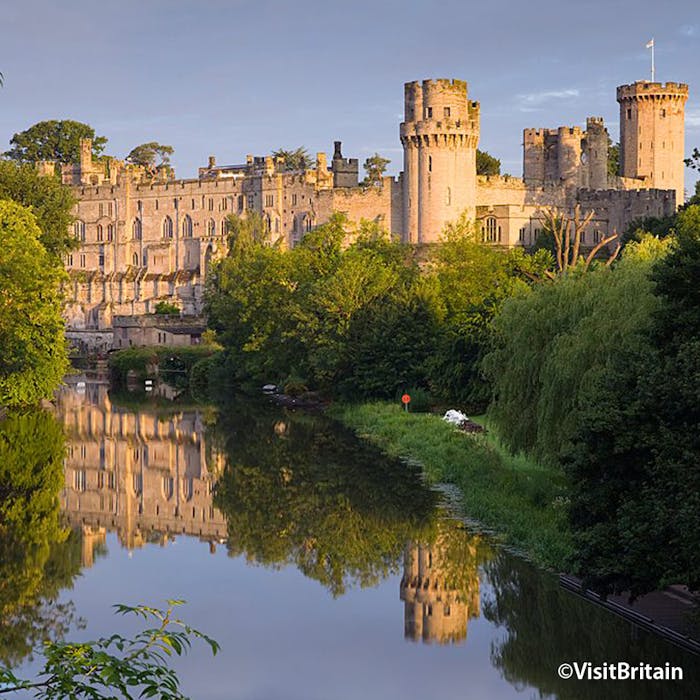 Warwick Castle
One of the best-preserved and charismatic castles in England, Warwick Castle, beside the river Avon in the town of Warwick, was originally built by William the Conqueror in 1068.
The original wooden motte-and-bailey castle was rebuilt in stone during the 12th century. During the Hundred Years War, the facade opposite the town was refortified, resulting in one of the most recognisable examples of 14th-century military architecture.
For much of its history, the impressive castle was the seat of the Earls of Warwick. The castle was very much at the hub of events during the Wars of the Roses, and Edward IV was imprisoned for a time here by Richard Neville (the "Kingmaker").
Warwick Castle was used as a stronghold until the early 17th century, when it was granted to Sir Fulke Greville by James in 1604. Greville converted it to a country house, and it was owned by the Greville family (who became Earls of Warwick in 1759) until 1978, when it was bought by the Tussauds Group.
The castle stables were once raided by the participants in the Gunpowder Plot as they tried to escape their pursuers, and the castle is supposedly haunted by one of the owners who was stabbed to death by a servant when he discovered that he had been left nothing in his master's will - which seems a very illogical murder when you think about it.
These days the castle is run as a major tourist attraction, with frequent medieval re-enactments and displays, dungeons to explore, accommodation, 64 acres of grounds and home to one of the world's largest working siege engines.
Further reading
Links to external websites are not maintained by Bite Sized Britain. They are provided to give users access to additional information. Bite Sized Britain is not responsible for the content of these external websites.