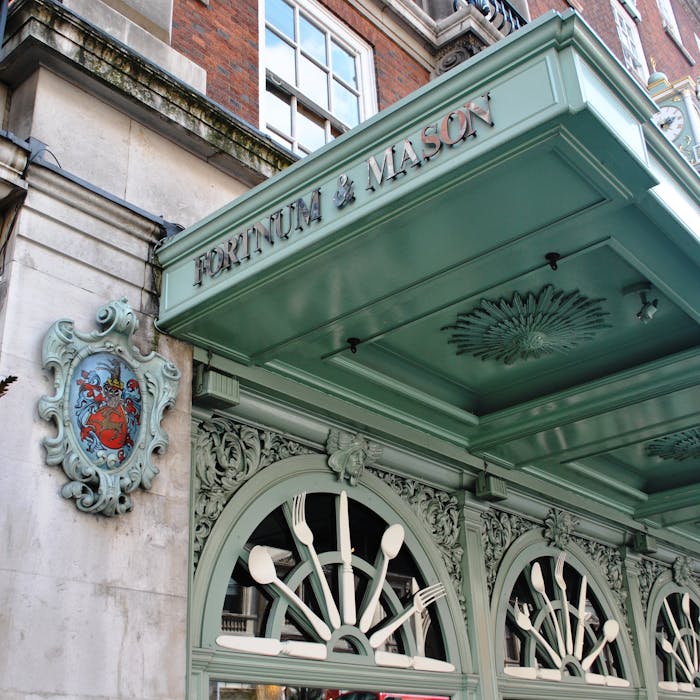 Fortnum and Mason - owing its existence to an entrepreneurial footman
The history of this characterful London department store on Piccadilly goes back the early 17th century when Hugh Mason rented out a spare room to William Fortnum, a Footman in the household of Queen Anne.
Now Queen Anne always had new candles lit every evening, and the entrepreneurial Fortnum decided to supplement his income by selling Queen Anne's half-used candle wax for a small profit. His cut throat business acumen (for Fortnum must surely have been fighting with the other royal servants for these valuable scraps) convinced his landlord, who also had a small shop in St James's Market, to join with him in a joint venture – the first Fortnum & Mason – in Duke Street in 1707.
Initially founded as a grocery store, Fortnum & Mason, which moved to its current site at 181 Piccadilly in 1756, become known for its high quality and rare goods – in particular tea – and during the 18th and 19th centuries supplied the gentry who were in London for the 'season'. Departments inside the store have included a rather bizarre 'Expeditions Department' which apparently supplied King Tutankhamen's finder Howard Carter and a 1922 expedition to Mount Everest. Their famous hampers were also present when Stanley met Livingstone near Lake Tanganyika and on Shackleton's Endurance expedition.
It has held numerous Royal Warrants since the mid 1800s with the first granted in 1863 when the firm was appointed as grocers to the then Prince of Wales.
A supplier of British officers during the Napoleonic Wars, Fortnums was also active during the Crimean War when Queen Victoria had shipments of "concentrated beef tea" sent to Florence Nightingale for use in her hospitals there.
Other claims to fame include the creation of the first Scotch egg in 1738 as a food for travellers and that in 1886, it became the first store in Britain to stock tins of Heinz baked beans. It also operated a post office between 1794 and 1839 when the General Post Office was founded.
The iconic clock which hangs on the facade of the building was commissioned in 1964 by Canadian businessman Garfield Weston who bought the business in 1951. Every hour models of Mr Fortnum and Mr Mason come forth and bow to each other. Other features on the building itself include four colonies of bees which have lived on the roof since 2008 in uniquely-designed hives.
The store, now famous for its luxury food hampers, underwent a £24 million restoration in the lead-up to its 300th anniversary in 2007. As well as the flagship store, it also now operates stores in St Pancras, Heathrow Airport and Dubai. 
Further reading
Links to external websites are not maintained by Bite Sized Britain. They are provided to give users access to additional information. Bite Sized Britain is not responsible for the content of these external websites.