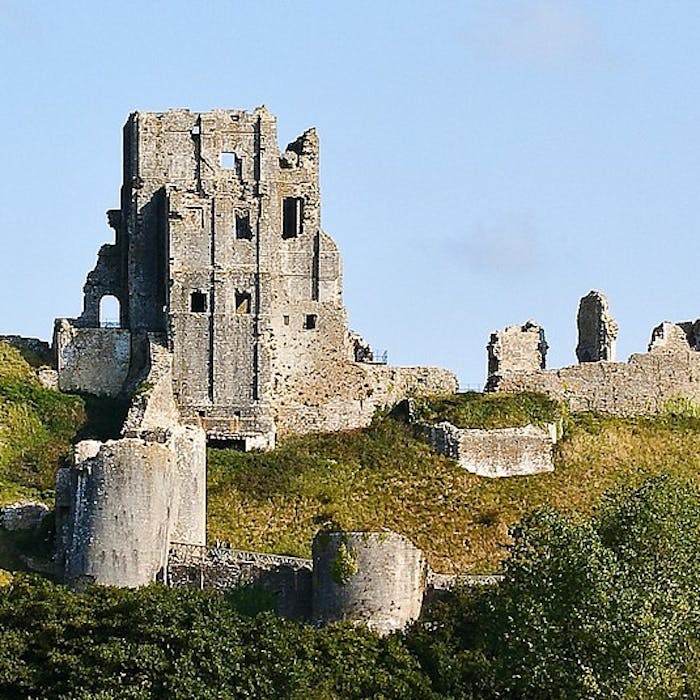 Corfe Castle, Dorset
The majestic ruins of Corfe Castle in Dorset are some of the most picturesque in the country, combined as they are with attractive countryside and the appealing village nearby.
Corfe Castle was built shortly after the Norman conquest of 1066 to dominate a gap in the Purbeck Hills.
The keep at Corfe Castle was built in the early 12th century for King Henry I, William the Conqueror's son. It was designed to be impressive – and it certainly was. 
Standing 21 metres tall, and positioned atop a 55-metre-high hill, this gleaming tower of Purbeck limestone could be seen from miles around. Quarried just a few miles away, Purbeck limestone was prized for being easy to shape yet tough enough to resist weathering.
King John, who reigned from 1199 to 1216, was fond of Corfe Castle, and spent money ensuring the castle had all the mod cons, including an indoor toilet for his own use. Later in the reign, the castle became the luxurious prison for Eleanor of Brittany, John's niece, who was seen as a danger to the throne.
In the Elizabethan period, Corfe Castle became a private residence, and was later deliberately demolished during the Civil War. The romantic ruins were given to the National Trust in 1982.
Further reading
Links to external websites are not maintained by Bite Sized Britain. They are provided to give users access to additional information. Bite Sized Britain is not responsible for the content of these external websites.