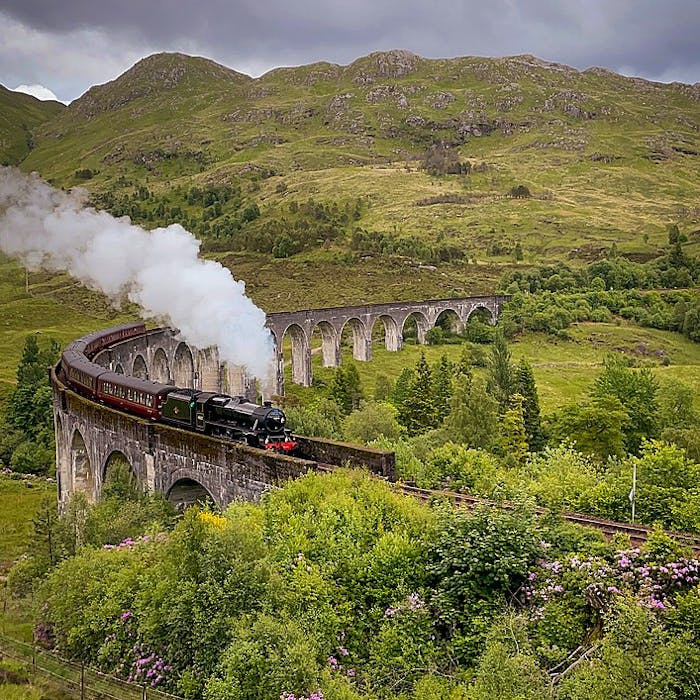 Glenfinnan Viaduct - drama on the West Highland Line
The Glenfinnan Viaduct is a renowned feat of Victorian engineering and the longest concrete railway bridge in Scotland. It takes the West Highland Railway over the River Finnan 100ft below, on its journey between Fort William and Mallaig – and is one of the most picturesque train rides in the world.
The viaduct carries the railway to Glenfinnan Station across a 1,000 ft span. The Jacobite steam train runs from here to Fort William and Mallaig in summer months. The Royal Scotsman and regular train services also run on the line.
Fort William and Mallaig are, of course, great tourist destinations as the gateway to Ben Nevis, and to the Isle of Skye respectively.
The Glenfinnan Viaduct was built in the 1890s by 'Concrete Bob' McAlpine - so named for his innovative use of mass concrete. The use of concrete overcame the difficulty of working the very hard local rock.
The viaduct's 21 huge arches were constructed using the most cutting edge (no pun intended!) technology of the day.
Glenfinnan Viaduct has been used as a location in several films and television series, including Ring of Bright Water, Charlotte Gray, Monarch of the Glen, Stone of Destiny, The Crown, and four of the Harry Potter films.
Further reading
Links to external websites are not maintained by Bite Sized Britain. They are provided to give users access to additional information. Bite Sized Britain is not responsible for the content of these external websites.