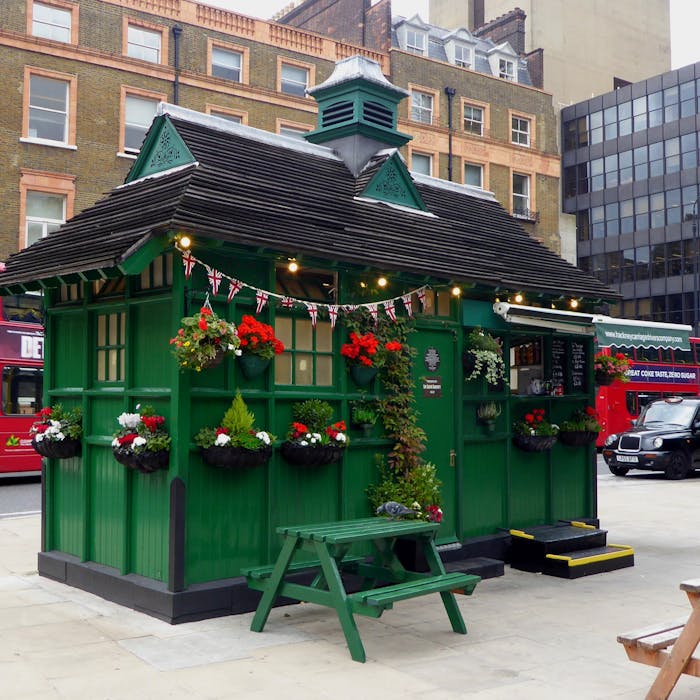 The green cabmen's shelters in London - still refreshing taxi drivers
In a fast-changing London street scene, there are a number of mysterious ancient-looking green huts still dotted around, including the one at Russell Square pictured above. These are refreshment kiosks created for cab drivers, and started appearing from 1875.
Back in the Victoria era, hansom cab drivers were out with their horses in all weathers. By law, the drivers could not leave the rank while their cab was parked there. This made it very difficult for them to obtain hot meals, and made for an unpleasant experience in bad weather. Going to a pub or cafe to buy food meant they would have to pay somebody to look after their cab, otherwise it was likely to be stolen.
In London, newspaper editor George Armstrong and the Earl of Shaftesbury decided to set up a charity to construct and run shelters at major cab stands. This became the Cabmen's Shelter Fund, which was established in 1875 to run shelters for the drivers of hansom cabs and later hackney carriages (taxicabs).
Between 1875 and 1914, 61 of these buildings were built around London, the first being on Acacia Road in St John's Wood near Armstrong's home.
They were staffed by an attendant who sold food and (non-alcoholic) drink to the cabbies. There was a kitchen in which to cook the food, and also any brought by the cabbies themselves. The attendant was not generally paid, but was expected to make an income from their own product sales. The shelters were also provided with seats and tables, and books and newspapers, most of them donated by the publishers or other benefactors. Although seeming quite small, most could accommodate ten to thirteen men. Gambling, drinking and swearing were strictly forbidden.
There are only 13 of the shelters left today, all of which are Grade II listed protected buildings. Most of these shelters still serve their original purpose.
Nowadays however, these huts aren't solely reserved for drivers, though non cabbies aren't actually allowed inside. Nonetheless, a number of famous people have managed to make use of them over the years, including prime minister Winston Churchill, comedian Benny Hill, and singer Frank Sinatra. The explorer Sir Ernest Shackleton was a regular at the Hyde Park Corner shelter, while the artist John Singer Sargent used the one near the Ritz.
The shelter in Russell Square now sells takeaways to the general public - though the interior remains forbidden and mysterious - still the sole realm of black-cab drivers.
Further reading
Links to external websites are not maintained by Bite Sized Britain. They are provided to give users access to additional information. Bite Sized Britain is not responsible for the content of these external websites.