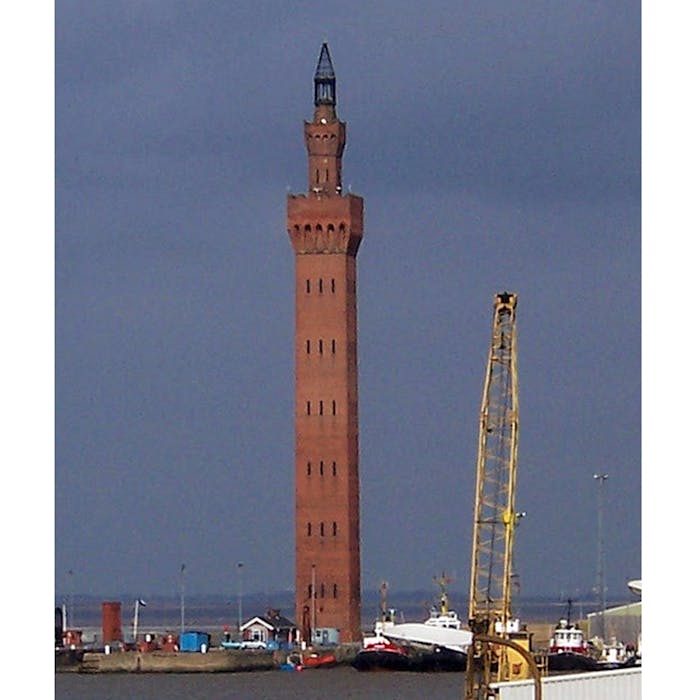 Grimsby Dock Tower
The Grimsby Dock Tower dominates the skyline of the town and surrounding flat Lincolnshire countryside. The style of thiis Victorian industrial building was inspired by the Torre del Mangia in Siena, Italy.
Grimsby Dock Tower was completed in 1852. Its purpose was to provide water pressure to power the hydraulic machinery for cranes, lock gates and sluices at the Royal Dock. To create sufficient water pressure, a very tall tower was needed. The Grimsby Dock Tower is 300 ft tall and contained a 30,000-imperial-gallon (140,000 L) reservoir at a height of 200 feet.
It also helped to supply fresh water to ships and to houses within the dock premises.
Queen Victoria came with Prince Albert to visit the dock and officially open the tower, two years after completion in October 1854.
Prince Albert, the Prince of Wales and the Princess Royal took the hydraulic lift to the gallery running around the tower to view the surrounding areas.
The tower was designed by James William Wild who based its appearance on that of the Torre del Mangia on the Palazzo Pubblico in Siena.
It is believed that around one million bricks were used in its construction.
The Dock Tower continued to provide water until 1892, when it was superseded by newer technology. Demolition was considered during World War Two as it acted as a beacon for German Luftwaffe aircraft heading towards Liverpool.
These days the tower is Grade I listed and the subject of a Preservation Order - so its future seems secure. It has become a local icon and even features on the packaging of Young's - the local seafood company.
Further reading
Links to external websites are not maintained by Bite Sized Britain. They are provided to give users access to additional information. Bite Sized Britain is not responsible for the content of these external websites.