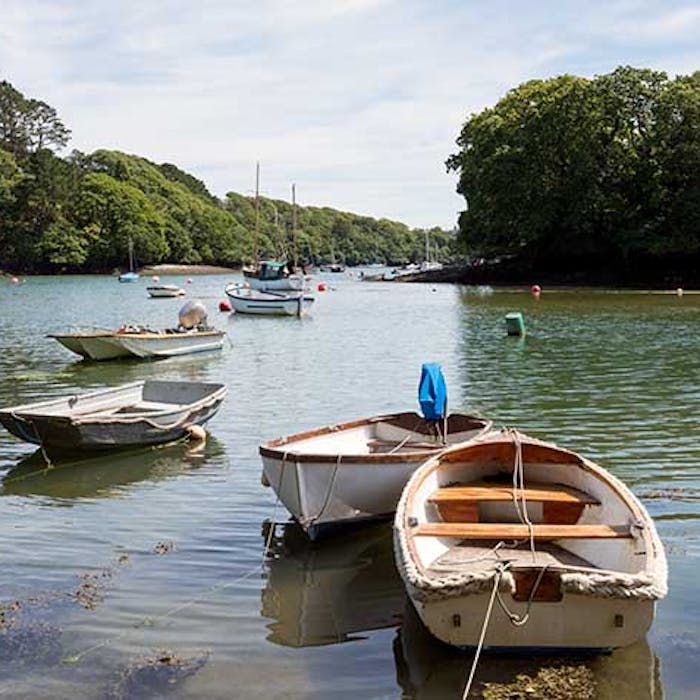 Helford River, Cornwall
The Helford River is one of the most unspoilt regions in Cornwall. It is a flooded river valley, fed by streams into its seven creeks. These creeks include Frenchman's Creek, made famous by Daphne du Maurier in her novel of the same name.
The other six creeks are Ponsontuel Creek, Mawgan Creek, Polpenwith Creek, Polwheveral Creek, Port Navas Creek, and Gillan Creek. Towards the mouth of the river are a number of beaches can be found, their backdrop a tangle of leafy foliage and colourful gardens open for the public to enjoy. Protected by the river mouth and lush valleys, these beaches are sheltered from the elements in almost all conditions, making them a wonderful setting for relaxation and enjoying nature. 
The river has long been an important industrial and agricultural marine highway serving local mines, farms and quarries as well as the local fishing industry. Though tourism now dominates, the fishing industry still exists - including a revival of the oyster fisheries.
At the head of the river, at Gweek, is the Cornish Seal Sanctuary which rescues injured wild seals and is open to the public.
Further reading
Links to external websites are not maintained by Bite Sized Britain. They are provided to give users access to additional information. Bite Sized Britain is not responsible for the content of these external websites.