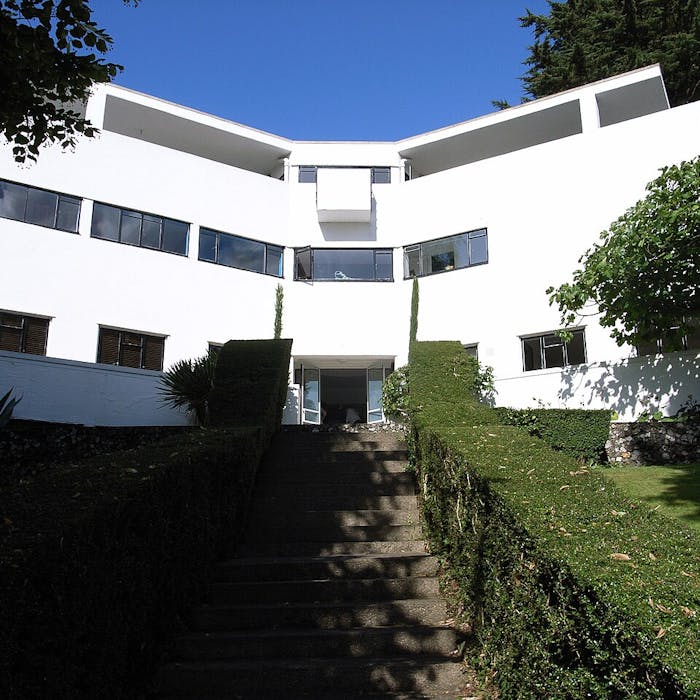 High and Over - architectural gem from the Jazz Age
High and Over in Amersham, Buckinghamshire, is one of the earliest houses in the Modernist style in Britain. Not surprisingly, it has appeared in an episode of television's 'Poirot'.
The house was commissioned by Professor Bernard Ashmole, who was at the time the director of the British School at Rome, later of the British Museum.
Ashmole and his wife Dorothy moved back to Britain in 1928 and wanted a home in the countryside within commutable distance of London.
They bought 12 acres of land outside Amersham (as you do) near the new Metropolitan Line stop and asked New Zealand architect Amyas Connell to design a country house in the latest style. Apparently the local council were very reluctant to approve the design - disliking the stark exterior.
The house was built between 1929 and 1931. It is Y-shaped, to allow views over the countryside in every direction and sunlight throughout the day. The house was painted white to contrast with its verdant surroundings. The interior was Art Deco, with a fountain as the centrepiece of the house, with further decoration in coloured glass, steel and chrome strips.
Outside a sweeping path leads to a blue circular pool.
The house was part of a larger plan incorporating landscaped gardens with a gardeners lodge, an electrical transformer and a water tower. There were also four other Modernist "Sun Houses" built around the estate to complement the main house. The Sun Houses still remain but the original integrated landscape and view has now been altered, with parts of the estate sold off over the years for the mid 60s housing estate which now surrounds the house, leaving just the garden.
The house featured in Sir John Betjeman's acclaimed 1973 film Metro-Land.
Over the years, the house and its style fell out of fashion and it became compromised, divided and shabby. However, new owners from 2010 restored High and Over to its original form as one dwelling with sympathetic interiors.
Further reading
Links to external websites are not maintained by Bite Sized Britain. They are provided to give users access to additional information. Bite Sized Britain is not responsible for the content of these external websites.