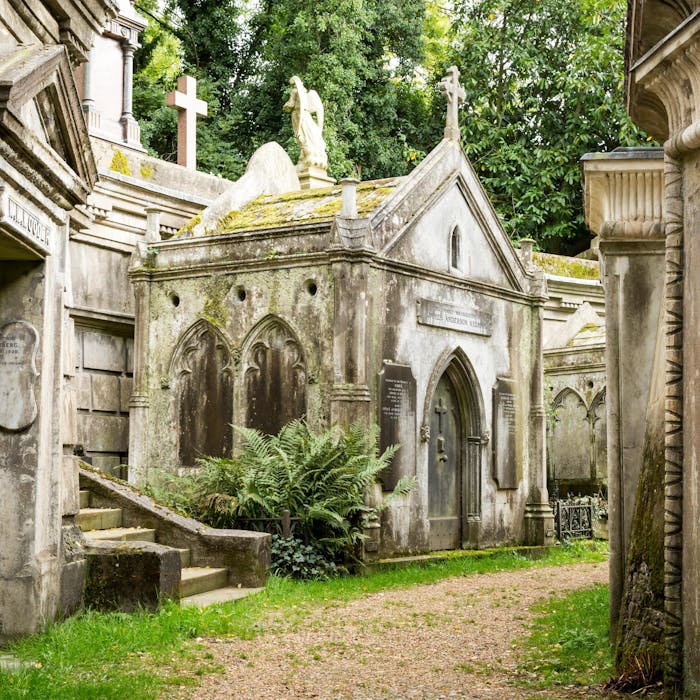 Highgate Cemetery - magnificent Victorian resting place
Highgate Cemetery is one of London's best known burial places. It was formed in the 19th century as part of the city of London's 'Magnificent Seven' park cemeteries to provide additional large burial grounds beyond the city's limits, due to overcrowded inner-city graveyards. Its famous inhabitants include writer George Eliot, philosopher and economist Karl Marx and painter Henry Moore.
In 1836 an Act of Parliament was passed creating The London Cemetery Company, to address inadequate burial space in the city. Stephen Geary, architect and the company's founder, appointed James Bunstone Bunning as surveyor and David Ramsey, renowned garden designer, as the landscape architect for the 'Magnificent Seven'.
The cemeteries are: Highgate, Kensal Green, West Norwood, Abney Park, Brompton, Nunhead and Tower Hamlets.
Highgate Cemetery was consecrated by the Bishop of London in 1839. Its tombs and buildings are constructed in a Victorian Gothic style. The Victorians' romantic attitude to death, and concern for respectful rituals and presentations around it, led to the creation of a labyrinth of Egyptian sepulchres, as well as a wealth of Gothic tombs and buildings. During the mid-to-late 1800s, it became a highly sought-after burial place.
There are at least 850 notable people buried at Highgate, including 18 Royal Academicians, 6 Lord Mayors of London and 48 Fellows of the Royal Society. Altogether, an estimated 170,000 people are buried in around 53,000 graves.
By the end of WWII the cemetery was overgrown, unattended, and in serious disrepair. This made it an attractive location for another British Gothic tradition - the horror films made by production company Hammer. These films regenerated interest in the cemetery itself, with reports of grave robbing and 'vampire hunts' appearing in the news. A myth of 'The Highgate Vampire' emerged - a tall black apparition seen lurking among the tombs.
In recent years, an increasing amount of restoration and conservation work has been carried out. The Egyptian Avenue, Circle of Lebanon and the Terrace Catacomb, along with over seventy other monuments, have now been listed by English Heritage. During 2011 the chapel interior was restored to its 1880s colour scheme, and reopened for funerals. English Heritage has listed Highgate Cemetery as a Grade 1 Park.
Today the cemetery's grounds are full of mature trees, shrubbery and wildflowers that provide a haven for birds and small animals. The Egyptian Avenue and the Circle of Lebanon (topped by a huge Cedar of Lebanon) feature tombs, vaults and winding paths through the hillside. The oldest section (there are two either side of Swain's Lane) has an impressive array of Victorian mausoleums and gravestones, as well as elaborately carved tombs. It only allows admission for tour groups, although the newer section, which contains most of the angel statuary, can be toured unescorted.
Further reading
Links to external websites are not maintained by Bite Sized Britain. They are provided to give users access to additional information. Bite Sized Britain is not responsible for the content of these external websites.