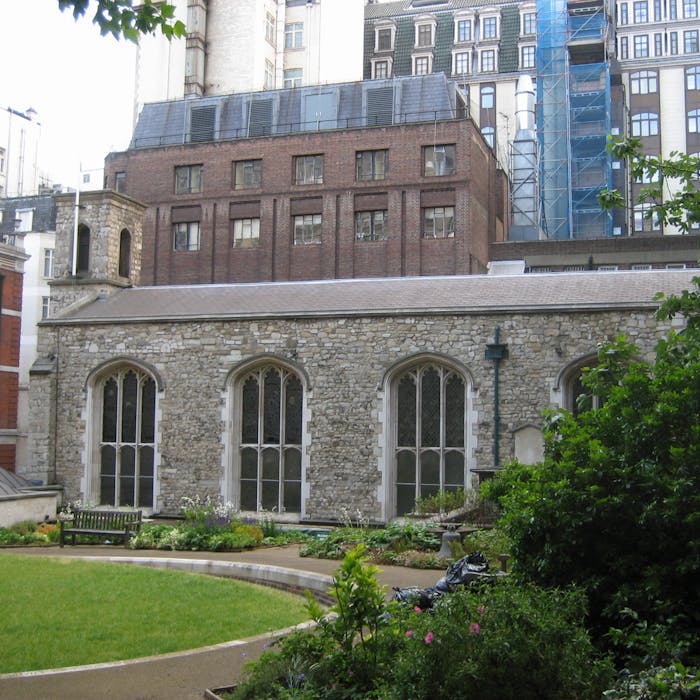 Savoy Chapel
In London, hidden away behind the busy Strand and round the back of the Savoy hotel, is the rather curious Queen's Chapel of the Savoy - a little church with a long history dating back to the 1490s.
The chapel was founded as part of the Savoy Palace which was destroyed during the Peasants' Revolt of 1381. Building work on the present chapel began in the 1490s (being completed in 1512) by Henry VII. It was planned as a side chapel off the new Savoy Hospital which was founded to look after 100 poor and needy men of London.
Engravings of the hospital show an extensive complex of buildings, including a great dormitory, longer than Westminster Hall, and three chapels, dedicated to St John the Baptist, St Catherine and Our Lady. The hospital foundation was dissolved in 1702 and most of the complex was demolished in the early nineteenth century for redevelopment and to allow the construction of the approach road to the new Waterloo Bridge. All that survives today is the Chapel of St John the Baptist, now known as The Queen's Chapel of the Savoy.
The expenses and maintenance of the Chapel are borne by The Queen in Right of Her Duchy of Lancaster. Recent work has included the landscaping of the gardens in honour of Her Majesty's Golden Jubilee, the restoration of the Chapel ceiling in 1999 and in 2011 improvements were made to the structure of the building in honour of Her Majesty's Diamond Jubilee which included the installation of a new commemorative stained glass window.
Members of the public are welcome to attend services in The Queen's Chapel of the Savoy. The Chapel is open to the public from Monday to Thursday 9am to 4pm and on Sunday from 9am to 1pm.
Further reading
Links to external websites are not maintained by Bite Sized Britain. They are provided to give users access to additional information. Bite Sized Britain is not responsible for the content of these external websites.