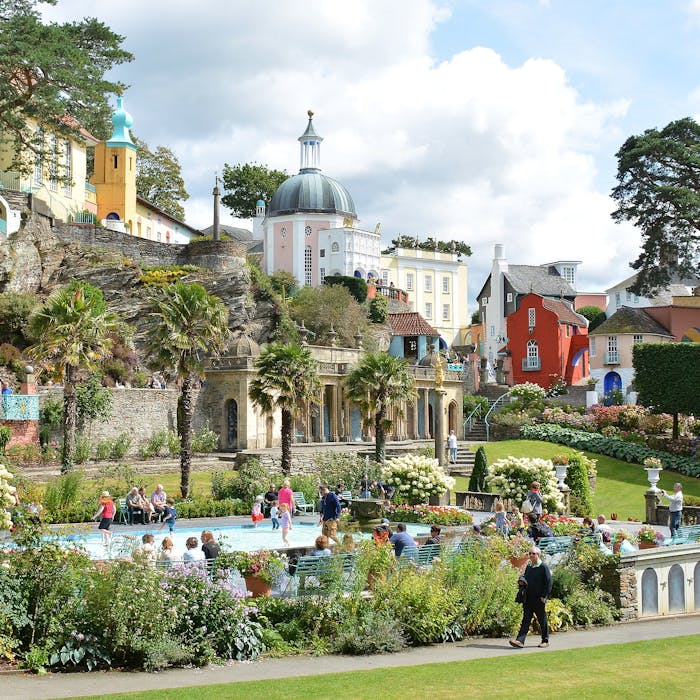 Portmeirion - a Mediterranean fantasy in Wales
On the coast of North Wales, a bizarre Mediterranean concoction can be found - a tiny village of pastel coloured Italianate houses and sub-tropical gardens beside a river estuary. This is Portmeirion, the creation of Sir Clough Williams-Ellis, who purchased the estate in 1925 as a "neglected wilderness" and then spent most of his life designing and building this fantasy world.
The style of Portmeirion's buildings ranges from Arts & Crafts to Classical and Baroque. The whole landscape was created like an artwork, painted in pastel hues, surrounding a reflecting pond and central lawn. Williams-Ellis incorporated architectural ruins and bits of salvaged buildings into his designs, including many disparate styles. Among other things Williams-Ellis called the village his "home for fallen buildings" and the extensive grounds are dotted with follies, sculptures, and ornamental ponds.
From the first, Williams-Ellis designed Portmeirion as a tourist destination, with guest accommodation, places to eat and a heated pool.
Nearby is the Gwyllt, a ten-hectare woodland garden first planted in the mid-nineteenth century by Henry Seymour Westmacott, and later by Caton Haigh, the foremost expert of his time on Himalayan flowering trees. This area was not acquired as part of Clough Williams-Ellis's Portmeirion until 1941.
Portmeirion was made internationally famous when it was used as the setting for the 1960s British TV cult classic series The Prisoner. This saw its oddness put to use as an unsettling backdrop to the surreal action about an unnamed British intelligence agent who is abducted and imprisoned in a mysterious coastal village, where his captors try to find out why he abruptly resigned from his job. The village hosts a Prisoner weekend every year.
Somewhat confusingly, but understandably, Portmeirion is also the name of a Pottery, located in England at Stoke-on-Trent. This originally began as a supplier of souvenirs to the Welsh village in 1960, when pottery designer Susan Williams-Ellis, daughter of Sir Clough Williams-Ellis, and her husband, Euan Cooper-Willis, took over a small pottery-decorating company, called Gray's Pottery in Stoke. This has since been built up into a substantial enterprise incorporating a number of other brands.
Further reading
Links to external websites are not maintained by Bite Sized Britain. They are provided to give users access to additional information. Bite Sized Britain is not responsible for the content of these external websites.