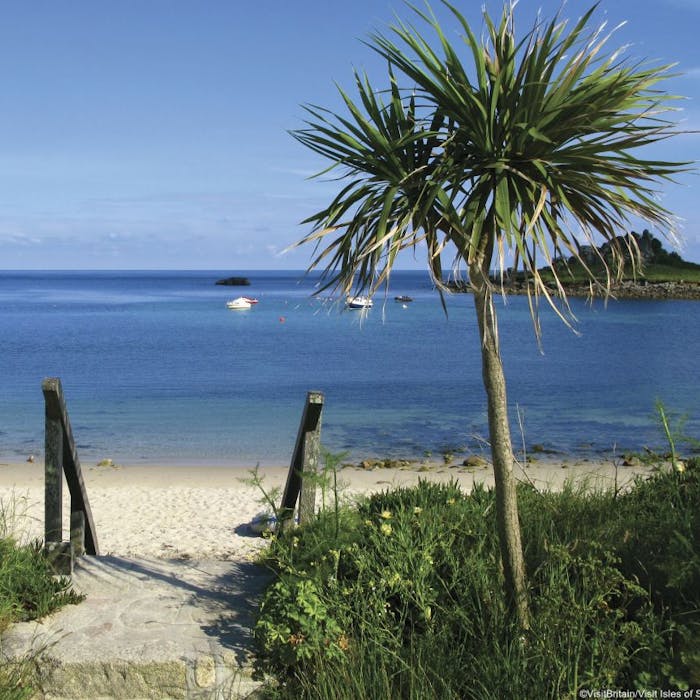 Isles of Scilly - England's Atlantic archipelago
The southernmost land mass of the British Isles are the Isles of Scilly, far out into the Atlantic Ocean off the south-western tip of Cornwall. Covered in heathland, and fringed with beautiful sandy beaches, the islands are the remnants of a large body of molten rock forming millions of years ago.
The granite outcrops and pebbles now found on the shorelines of Scilly are about 290 million years old. They were formed from molten rock, or magma, known as a pluton, reaching 10 km down into the ground and under the sea all around Scilly. 
The Scilly pluton is one of a group, joined deep underground in a single mass extending through Cornwall and Devon as far as Dartmoor.
Tourism now forms a major part of the local economy, along with agriculture—particularly the production of early season cut flowers including daffodils. The crops do, however, need to be protected against the strong south-westerly gales that are a feature of the islands' climate, though on a sunny day, they can seem to be almost tropical in character.
Indeed, on Tresco, one of the five inhabited islands, Tresco Abbey Garden, is home to subtropical plants and also the Valhalla Museum, displaying shipwrecked figureheads. The tower of 17th-century Cromwell's Castle stands at the north of Tresco.
The total population of the islands at the 2011 census was 2,203 and tourism accounts for most of the employment and 85% of the islands' income. Visitors can come by a range of transport links by sea and air to the mainland, including a ferry from Penzance. The distance from the mainland and its light pollution offers perfect night skies for stargazing. The migratory birdlife also attracts many birdwatchers to visit.
The freehold land of the islands is the property of the Duchy of Cornwall. All the uninhabited islands, islets and rocks and much of the untenanted land on the inhabited islands is managed by the Isles of Scilly Wildlife Trust, which leases these lands from the Duchy for the rent of one daffodil per year.
St Agnes, is the most southerly point in England, being over 4 miles (6.4 km) further south than the most southerly point of the British mainland at Lizard Point. The other main islands are called St Martin's, Bryher and St Mary's.
Although the Isles of Scilly are still part of the ceremonial county of Cornwall, since 1890 the islands have had a separate local authority. Since the passing of the Isles of Scilly Order 1930, this authority has had the status of a county council and today is known as the Council of the Isles of Scilly. For political representation, they are part of the constituency of St Ives.
Further reading
Links to external websites are not maintained by Bite Sized Britain. They are provided to give users access to additional information. Bite Sized Britain is not responsible for the content of these external websites.