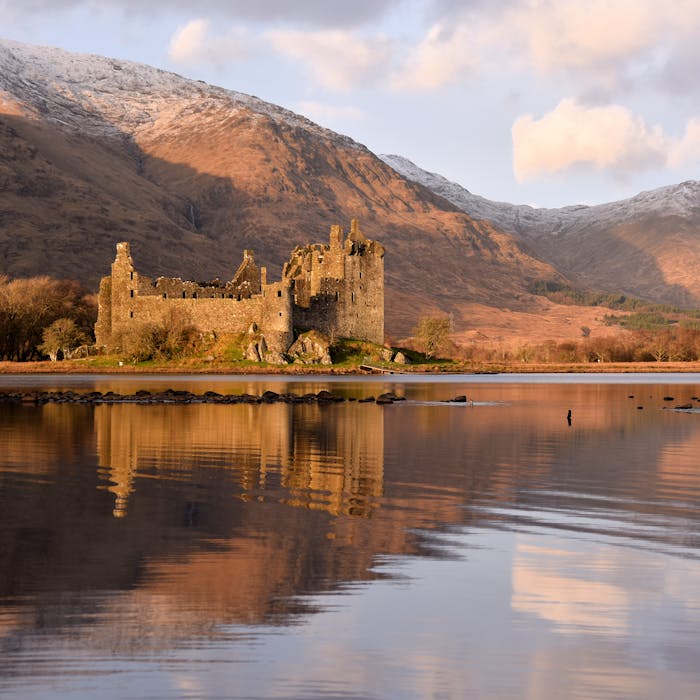 Kilchurn Castle - awesome ruin on Loch Awe
The ruined castle of Kilchurn is is one of the most photographed castles in Scotland, sitting on a loch, surrounded by mountains, in Argyll and Bute.
Sir Colin Campbell built Kilchurn Castle at the head of Loch Awe in the mid-1400s. The castle originally stood on an island. (It became a peninsula in 1817 when the water level in Loch Awe was altered).
Kilchurn Castle was the base of the mighty Campbells of Glenorchy for 150 years.
After the first Jacobite Rising of 1689, Kilchurn was converted into a garrison stronghold, but was abandoned by the end of the 1700s - after a terrible storm in 1760 damaged the structure.
J. M. W. Turner painted the castle on one of his tours of Scotland in the early 19th century.
Kilchurn Castle contains the oldest surviving barracks on the British mainland. Its five-storey tower house dominates the complex, with a lower hall, courtyard and barracks below.
The ruin is now in the care of Historic Environment Scotland, and is open to the public during the summer.
Further reading
Links to external websites are not maintained by Bite Sized Britain. They are provided to give users access to additional information. Bite Sized Britain is not responsible for the content of these external websites.