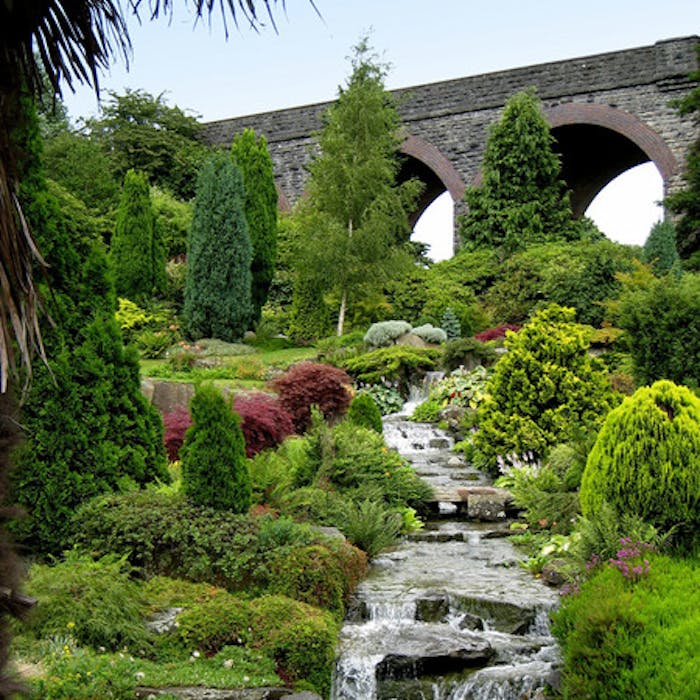 Kilver Court Gardens - Somerset gardens set against a striking backdrop
Kilver Court gardens in Shepton Mallet, Somerset were once the grounds of a country house. The impressive planting and waterfall are overlooked by the disused Charlton Railway Viaduct as it crosses the River Sheppey - providing a breathtaking 15-metre-high backdrop to the gardens.
The River Sheppey powered textile mills, and the original property built here was a country house for the mill owner. It predated the industrial revolution, being built around 1650, but later became a factory, and was extended with additional buildings, becoming the headquarters of the Showerings drinks business, and then those of leather-goods manufacturer, Mulberry. The buildings have since been converted into a designer outlet shopping centre.
The gardens were laid out in the 1880s by Ernest Jardine, the Member of Parliament for East Somerset, for his lace workers. He used the old mill ponds as boating lakes; and also built a pub and schoolhouse. The gardens became known as Jardine's Park and included fruit and vegetable plots which provided food for the workers.
Later owners of the site have embraced the garden and added their own enhancements over the years to the three and a half-acres.
The current layout is a reproduction of a 1960s Chelsea Flower Show medal winning garden designed by George Whitelegg and includes a rockery and parterre. The area adjacent to the river includes hostas, day lilies and candelabra primulas.
The gardens are open to visitors, with an entry fee.
Further reading
Links to external websites are not maintained by Bite Sized Britain. They are provided to give users access to additional information. Bite Sized Britain is not responsible for the content of these external websites.