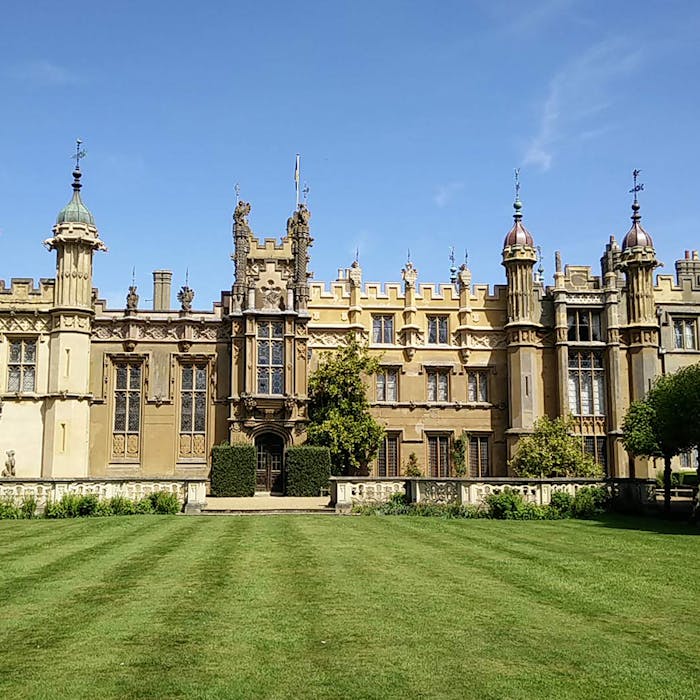 Knebworth House, a Tudor Gothic pop sensation
Set in 250 acres of beautiful Hertfordshire countryside, including 28 acres of formal gardens, Knebworth House, has been home to the Lytton family for more than 500 years. Since 1974, the grounds have been associated with numerous major open air rock and pop concerts.
The home of the Lytton family since 1490 Knebworth House was originally a red-brick Late Gothic manor house, built round a central court as an open square. In 1813-16 the house was reduced to its west wing, which was remodelled in a Tudor Gothic style by John Biagio Rebecca for Mrs Bulwer-Lytton, and then transformed further in 1843-45 by Henry Edward Kendall Jr. into the present Tudor Gothic structure.
Knebworth's most famous resident was arguably Edward Bulwer-Lytton (1803-1873), the Victorian author, dramatist and statesman, who embellished the gardens in a formal Italianate fashion. The 1st Baron's great-grandson Neville (1879-1951) married Judith Blunt, a well known horse breeder who inherited Crabbet Arabian Stud in 1917 and devoted her life to it. In 1913-1914 the house was leased for £3,000 per year by Grand Duke Michael Alexandrovich of Russia, the younger brother of the Tsar, and his morganatic wife Natalia Brasova.
Much of the interior of Knebworth House was redesigned by Sir Edwin Lutyens, who married Lady Emily Bulwer-Lytton (1874-1964). He simplified the main parterre. Lady Emily was the daughter of The 1st Earl of Lytton, who served as Viceroy of India between 1876 and 1880. A herb garden, with an interlaced quincunx design, was drawn by noted garden designer Gertrude Jekyll in 1907, although not planted until 1982.
The house has been visited by characters as diverse as Charles Dickens, Winston Churchill - and Noel Gallagher, the latter amongst those who have performed at the Knebworth Festival, and its successors, which began in the grounds in 1974. Others have included The Beach Boys, Rolling Stones, Elton John, Led Zeppelin, Frank Zappa and Pink Floyd. In August 1986, Queen performed their last concert with their original lineup in what was Freddie Mercury's final show with the band.
The house and gardens are regularly open to the public.
Further reading
Links to external websites are not maintained by Bite Sized Britain. They are provided to give users access to additional information. Bite Sized Britain is not responsible for the content of these external websites.