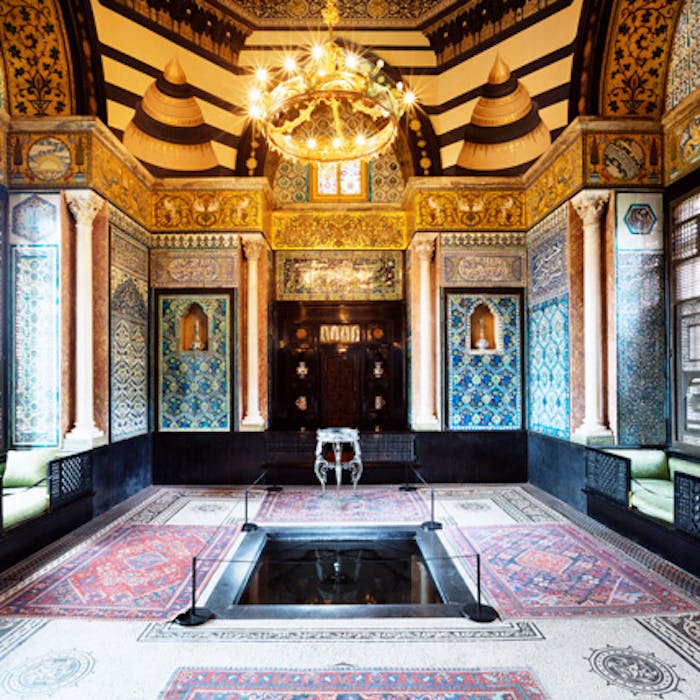 Leighton House Museum
Leighton House Museum in Kensington is housed in one of London's most interesting Victorian villas. It is the former home of painter Sir Frederic Leighton, who had the house built and finished with an amazing Eastern-inspired interior.
Frederic Leighton was an extremely popular and successful British painter, draughtsman and sculptor of the 1860s to 1890s. His works depicted historical, biblical, and classical subject matter. One of his most famous pieces is called Flaming June - a Pre-Raphaelite woman resting in an amazing orange dress, produced in 1895.
Leighton commissioned the architect and designer George Aitchison to build him a combined home and studio, with lavishly decorated rooms to show off his collection of artworks, and as a setting for parties. Several rooms incorporate tiles, wooden lattices and other elements purchased in the Near East to create an exotic and elaborate interior. Decadent peacocks, spectacular blue mosaics, and Arabesque features make Leighton's home a delight to visit, and a true curiosity.
Visitors may recognise the interior from various film and television programmes including Nicholas NIckleby (2002) and Poirot, and music videos including Golden Brown by The Stranglers.
In this house, Leighton presided over regular Sunday receptions and musical soirées, which were attended by everyone who was anyone in the world of the arts at the time. Leighton, his home and his parties became the talk of London society and were lavishly featured in all the fashionable periodicals. Envious friends and rival artists were prompted to set up home close by, and some attempted their own exercises in ostentatious interior design, though none matched Leighton's excesses.
An oddity about this expansive house is that there only a single bedroom. Leighton was a lifelong bachelor and none of his innumerable guests were ever invited to stay overnight. The only bedroom is Leighton's own, austere, with a solitary electric lamp and a bed that was scarcely more luxurious than his butler's in the basement.
Leighton House Museum is now run by Kensington and Chelsea Borough Council, and is open to the public.
Further reading
Links to external websites are not maintained by Bite Sized Britain. They are provided to give users access to additional information. Bite Sized Britain is not responsible for the content of these external websites.