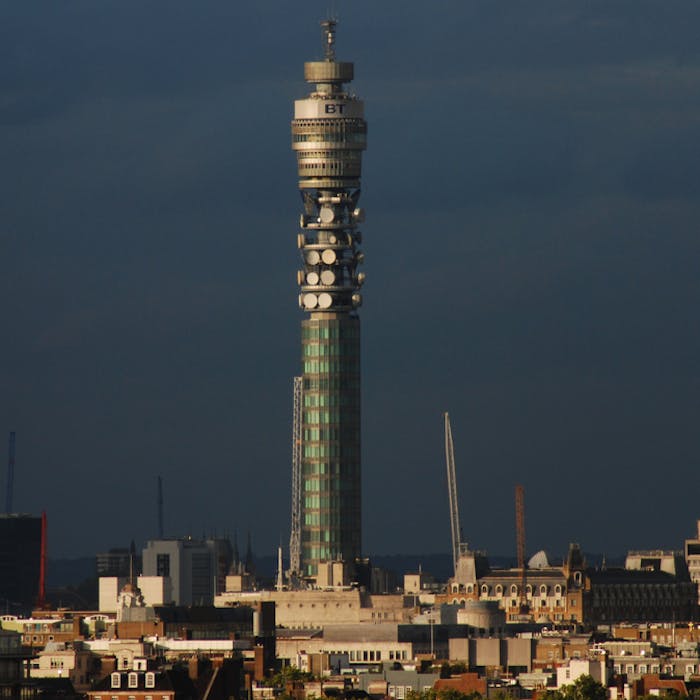 London's iconic 60's tech tower
Dominating the London skyline since 1965 and opened as the Post Office Tower, this 620 ft high structure was built as part of the growing telecommunications side of the Post Office.
This eventually split off into a separate state-owned company, and was later privatised.
The tower (now called the BT Tower) was commissioned by the General Post Office (GPO). Its primary purpose was to support the microwave aerials then used to carry telecommunications traffic from London to the rest of the country, as part of the General Post Office microwave network.
The tower was designed by the architects of the Ministry of Public Building and Works: the chief architects were Eric Bedford and G. R. Yeats. Typical for its time, the building is concrete clad in glass. The narrow cylindrical shape was chosen because of the requirements of the communications aerials: the building will shift no more than 25 centimetres (10 in) in wind speeds of up to 150 km/h (95 mph). Initially, the first 16 floors were for technical equipment and power. Above that was a 35-metre section for the microwave aerials, and above that were six floors of suites, kitchens, technical equipment, a revolving restaurant, and finally a cantilevered steel lattice tower. To prevent heat build-up, the glass cladding was of a special tint. The construction cost was £2.5 million.
The tower was officially opened by the then Prime Minister Harold Wilson on 8 October 1965.
The tower was opened to the public on 19 May 1966, by Tony Benn (then known as Anthony Wedgwood Benn) and Billy Butlin, with HM the Queen visiting on 17 May 1966.
In its first year the Tower hosted just under one million visitors and over 100,000 diners ate in the restaurant.
A bomb exploded in the roof of the men's toilets at the Top of the Tower restaurant at 04:30 on 31 October 1971, the blast damaged buildings and cars up to 400 yards away. Responsibility for the bomb was also claimed by members of the Angry Brigade, a far-left anarchist collective. A call was also made by a person claiming to be the Kilburn Battalion of the IRA. That act resulted in the tower being largely closed to the general public.
The tower is sometimes used for corporate events. The tower retains its revolving floor, providing a full panorama over London and the surrounding area.
Further reading
Links to external websites are not maintained by Bite Sized Britain. They are provided to give users access to additional information. Bite Sized Britain is not responsible for the content of these external websites.