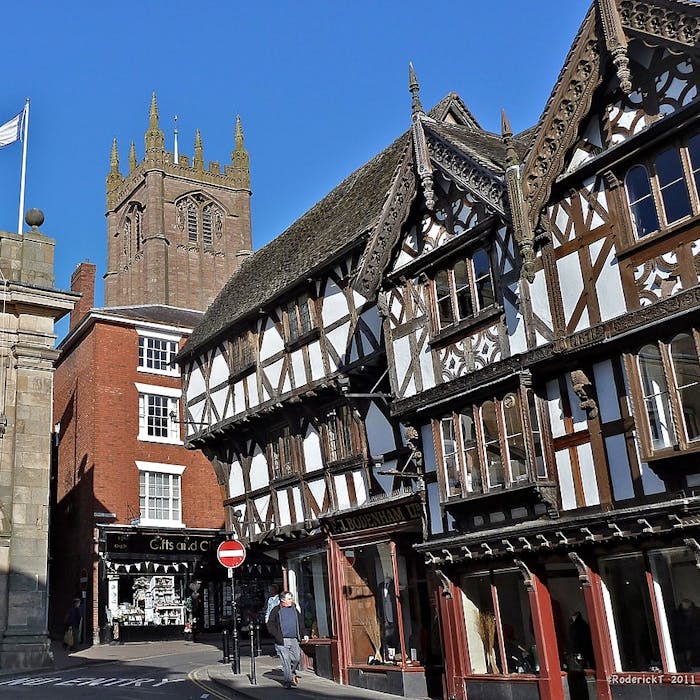 Ludlow - "The Perfect Historic Town"
Described (quite reasonably) as "the perfect historic town" by its own PR, Ludlow in south Shropshire offers fine examples of architecture from the Medieval, Tudor and Georgian periods, a castle, outdoor markets, heaps of history, and a great location beneath the Shropshire Hills AONB.
Ludlow's historic significance partly lies in its position close to the border with Wales. The town was planned on a grid pattern in the early Medieval period to provide services, rents and taxes to the local Marcher lords.
Ludlow Castle was an important fortification along the Welsh border and prominent in the Wars of the Roses and the English Civil War. The Tudors sent several heirs to hold court there as Prince of Wales - including the future Edward VI and Henry VIII's elder brother Arthur (who died in his teens).
The castle is open to the public and also hosts several festivals throughout the year, including the Ludlow Food and Drink Festival. Ludlow is known for its many artisan food suppliers and restaurants - at one time being the only town in England with three Michelin-starred restaurants. This star may have slightly faded but Ludlow is still a fantastic destination for food-lovers.
Ludlow has nearly 500 listed buildings, including examples of medieval and Tudor-style half-timbered buildings. It also sits on a river with a nature reserve opposite. The town was described by Sir John Betjeman as "probably the loveliest town in England".
Further reading
Links to external websites are not maintained by Bite Sized Britain. They are provided to give users access to additional information. Bite Sized Britain is not responsible for the content of these external websites.