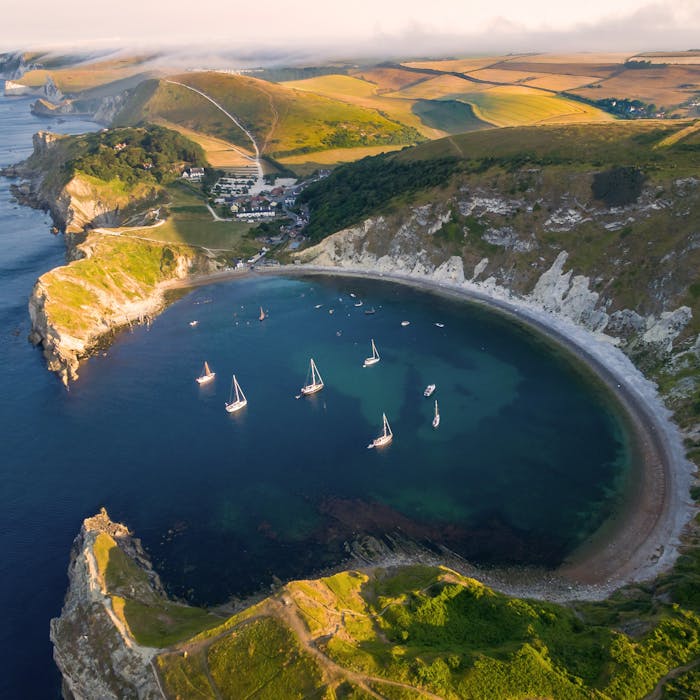 Lulworth Cove - much-loved feature of the Jurassic Coast
Lulworth Cove on the Jurassic Coast in Dorset is a spectacular curved bay created where the waves from the sea have cut through weaknesses in the coastal limestone and then eroded the softer clays beyond. It is a World Heritage Site and tourist location with approximately 500,000 visitors every year.
The geological history of the Cove is unusual. A narrow band of Portland limestone rocks form the shoreline, which has been breached to form a narrow gap as the result of wave action and weathering. Behind this is a narrow band of slightly less-resistant Purbeck limestone, and behind this come the more easily eroded clays. These areas have become the interior of the Cove. Forming the back of the cove is a 250-metre-wide band of chalk, which is considerably more resistant than the clays and sands.
Nearby, Stair Hole, less than half a mile to the west, is an infant cove which suggests what Lulworth Cove would have looked like in its formation a few hundred thousand years ago. The sea has made a gap in the Portland and Purbeck limestone here, as well as a small arch. The sea has made its way through to the Wealden clays and begun eroding them.
The pebble beach and blue waters of Lulworth Cove make it an extremely popular destination. Low tide reveals wonderful rock pools teeming with sea creatures – great for exploring with children. The Cove and surrounding countryside are hugely popular with walkers and form part of the South West Coast Path national trail.
The area is a challenge in terms of conservation due to the pressure brought by the many visitors. Wooden steps, walkways and fences have been put in place to limit this damage.
In 2001 the whole Jurassic Coast was granted World Heritage Site status by UNESCO. Experts at UNESCO have been working on preserving the shape of Lulworth Cove. Most of the area is privately owned by a wealthy landowning family. Land to the east is owned by the Ministry of Defence and used for tank training; it is open only at weekends and holidays.
The nearby village of Lulworth has a Heritage Centre and tourist information and natural history museum.
Further reading
Links to external websites are not maintained by Bite Sized Britain. They are provided to give users access to additional information. Bite Sized Britain is not responsible for the content of these external websites.